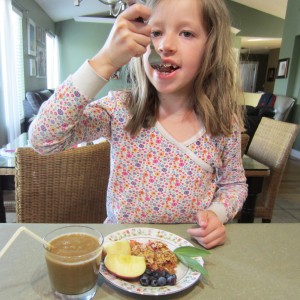 This recipe is adapted from Stephmodo. I follow her blog and when she posted this recipe, I had rhubarb and lots and lots of basil growing in my garden, so I wanted to give it a try.  I'm always looking for breakfast ideas for kids because I want to get away from the boxed cereal every morning.  I did modify it to be GFDF for our family.  Don't want anyone getting sick!
I have to admit, I was a little worried about the basil in this.  I typically use basil in savory Italian cooking, so I wasn't sure if I'd like it in a sweet dish.
I have to say, it was Ah-mazing!  Everyone loved it and everyone had seconds.  It was completely gone in about 5 minutes after baking it.  It was a lovely change of pace for breakfast and I would definitely make it again.  I'm sure it would taste wonderful with other types of berries too.  Stephmodo says to serve it with ice cream.  Since we were having it for breakfast, I decided to keep it a little more healthy.  This would also make a stellar dessert.  I might make it for Book Group tomorrow.  I also served this dish with some fresh blueberries, apple slices, and a Strawberry Pineapple Smoothie with 2 cups of spinach added.
Gluten Free Strawberry Rhubarb Basil & Apple Crisp
Ingredients
1 lb. strawberries, hulled and halved
1 cup rhubarb, cut into 1/2 in. thick slices
7 basil leaves, julienned
1/4 c. sugar
1 T plus 1 t. cornstarch
2 T. fresh lemon juice
1/4 tsp. sea salt
2/3 c. GF oats
1/3 c. brown sugar, packed
1/3 c. gluten free flour
another pinch of salt
3/4 c. cubed Dairy Free butter, such as Earth Balance
Instructions
Preheat oven to 425 degrees.
Stir the first 7 ingredients together
Spoon fruit mixture into a square stoneware dish
Stir oats, brown sugar, flour and salt in medium bowl. Blend in butter with a pastry cutter until mixture forms small clumps. Crumble topping over fruit mixture. Bake until bubbly and topping is golden, about 35 minutes
https://www.positivelymommy.com/2012/06/breakfast-ideas-for-kids-gfdf-strawberry-rhubarb-basil-apple-crisp/
If you'd like a nice stoneware pan like the one we used in this recipe, I covet this one!  It's a lot nicer than the one I used, I got mine at a thrift store for $2.  The food that I make in it tastes fabulous.  It really does make a difference to use a stoneware pan.
This is what the crisp looks like all plated up and pretty garnished with fresh fruit and mint from our garden.
Please comment if you have tried this recipe and like it too!
**Positively Mommy occasionally provides recipes and other information about food preparation. Please keep in mind that it is the reader's responsibility to determine the value of these recipes, nutritional and otherwise. It is also the reader's responsibility to determine the safety of the preparation instructions. Recipes are prepared "at your own risk." We assume no liability, obligation, or warranty with respect to these recipes. Positively Mommy is not responsible for any damage, medically or otherwise, that could result from preparation of these recipes. Visitors must take care to check the instructions provided and determine their value and any possible medical condition that may arise from the preparation instructions and consumption of the ingredients listed in this site's recipes.