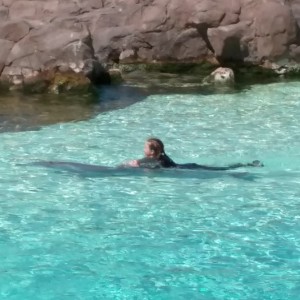 We moved this summer and things have been, well, crazy!  I have taken quite a long blogging hiatus, but it's nice to be back.  We recently returned from a vacation to California to go to Disneyland (shocking, I know!) and Sea World.  Our 11 year old daughter adores dolphins and has saved for a long time to pay for her own way to swim with the dolphins at Sea World via their Dolphin Interaction Program. It was a really awesome experience for the whole family and I would love to share my thoughts and my review of the experience for you.  Here are some of my pros and cons:
PROS:
Actually get to ride, feed, and prompt a dolphin to do tricks
You get in the water with the dolphins (waist deep: they provide a wetsuit)
The trainers are really great with kids
The staff is very friendly and instructive
It lasted about 45 minutes
They give you a complimentary towel (which is great, because we forgot ours)
You can photograph or video the whole experience (see my con below)
CONS:
For some reason, I was mistakingly under the impression that this was a 1:1 experience with the dolphin.  It's a group experience and there is 1 dolphin to every 6 or so people.
Cost ($215+)
The biggest con to me, was there wasn't a good spot for the parents to stand and take pictures.  Every place they had was either far away or at a weird angle.  I would have been 100% happy with the experience if I could have seen her better.  Instead I had to pay $35 for a picture of her afterwards because I couldn't get good shots.
Overall, the experience was wonderful and I would do it again.  Here's a video of Kaylee's experience:
Please comment if you have questions!