T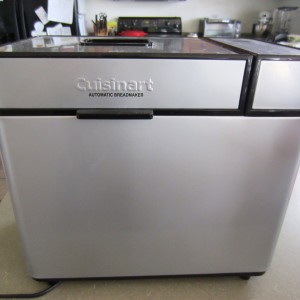 his awesome Gluten Free bread machine is a well-used appliance in our kitchen. We've had it for a couple years now and  it has been worth it's weight in gold since we use at least a loaf of bread each week.
When we buy gluten free bread at the local health food store, it generally costs $6.50 + tax for a 1 pound loaf.  We can make a 2 pound loaf for around $4 which also gives us control over what we put in it.
Sometimes I put in chia seeds, ground flax seed, or apples and raisins.  I have tried many mixes in this machine, but I find Bob's Gluten Free Bread Mix is the best tasting.  I add 2 eggs instead of one for a fluffier texture and use vanilla almond milk to make it dairy free.
Here's what the bread looks like when it comes out of the bread machine.  It's moist and tender and doesn't taste gluten free until day 2 when it's a little more stale.  Now, we live in Utah where it is high altitude and I have problems with the bread machine's ability to make the middle of the bread not mushy (is that a word?).  Well, I turn the oven on 350 when the bread is done in the bread maker and cook it for 5 more minutes.  I think there's a way to make it do that in the bread machine, but I lost the manual.  I gave this loaf as a gift to my daughter's friend who is also GF and she said it was the best bread she had ever had.  Patted myself on the back with that one!
Here's the settings on the bread machine.  You can see it has a gluten free setting.  There are other machine's that are double the price that have gluten free settings as well, but they make smaller loaves.  I felt like for the price, this one was the best for us.  It's a little on the large size for an appliance, but since we use it so much, I feel like it's worth it.  It does take up valuable counter space, so you will need to keep that in mind.  If you're like me and crave soft chewey bread, it will be worth it to you, trust me!  And to be honest, my kids prefer this bread to non-gf bread, so that's saying something!  If you have any good bread recipes, please share them with us in the comments.
**Positively Mommy occasionally provides recipes and other information about food preparation. Please keep in mind that it is the reader's responsibility to determine the value of these recipes, nutritional and otherwise. It is also the reader's responsibility to determine the safety of the preparation instructions. Recipes are prepared "at your own risk." We assume no liability, obligation, or warranty with respect to these recipes. Positively Mommy is not responsible for any damage, medically or otherwise, that could result from preparation of these recipes. Visitors must take care to check the instructions provided and determine their value and any possible medical condition that may arise from the preparation instructions and consumption of the ingredients listed in this site's recipes.