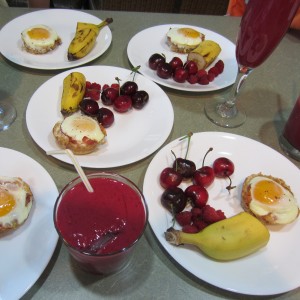 For our annual Fathers Day Brunch this year, my kids and I made something a little different.  I am not a morning person.  In fact, I despise getting up out of my warm bed!  But on Fathers Day, I make an exception since I'm married to such a fabulous guy.
Usually I get up early (before 9 am church) and make bacon and eggs for Fathers Day brunch.  This year I wanted to go all out and make something really special for my husband, so I made these little beauties.  They were a big hit with our kids and with my husband and I hope to make them again soon.  The yolks were a little runny just how I like them and they were oh so delicious and pretty quick and easy to make too.  I won't lie and say cleaning the muffin tin was easy though with all that egg and cheese on it!
Below you will see the recipe for the egg cups which was served with cherries, grapes, a banana and a Berry Bliss Smoothie that the kids will love!  This recipe was adapted from the nonshery.com
Ingredients
8 slices of gluten free bread
8 slices bacon (pre-cooked)
8 medium sized eggs
2/4 cup of dairy free cheese
salt and pepper
Instructions
Preheat oven to 400 degrees.
Spray muffin tin with non-stick spray.
Using a cup, cut circles out of bread and place 1 slice in each muffin tin
Shape bacon strips into toast cups. Fill with 1 T. cheese.
Crack the egg on top of the toast cups and cook for 10-12 mintues.
Remove from oven and pop out egg cups using a spoon.
https://www.positivelymommy.com/2012/06/fathers-day-brunch/
**Positively Mommy occasionally provides recipes and other information about food preparation. Please keep in mind that it is the reader's responsibility to determine the value of these recipes, nutritional and otherwise. It is also the reader's responsibility to determine the safety of the preparation instructions. Recipes are prepared "at your own risk." We assume no liability, obligation, or warranty with respect to these recipes. Positively Mommy is not responsible for any damage, medically or otherwise, that could result from preparation of these recipes. Visitors must take care to check the instructions provided and determine their value and any possible medical condition that may arise from the preparation instructions and consumption of the ingredients listed in this site's recipes.