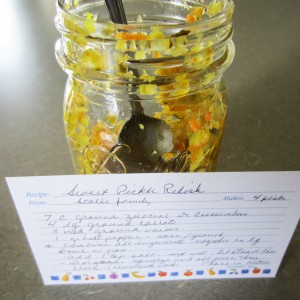 I have a neighbor that lives across the street that is in her "golden" years.  She is so sweet to us and sits next to our family at church each Sunday to help with our 3 children.  The other day she brought us by a yummy yummy treat.  I shared a tiny bit with my family and ate the rest.   Is that selfish?  I don't think so!
So, the thing I loved about this small act of kindness (not that the relish wasn't good, because it was fantastic!), but the handwritten recipe card.  Who does that any more?  It just takes me back in time a little when technology wasn't so prevalent and people actually exchanged letters and recipes instead of emailing them or sending a link.
Anyway, if you are wondering what to do with the plethera of zucchini in your garden, this sweet Zucchini Relish Recipe would be a splendid recipe to have on file!  If you're not sure what to use it on, of course hot dogs, hamburgers and my favorite: on rice crackers for lunch.  I had this for lunch for a whole week and it was wonderful!
Sweet Zucchini Relish Recipe
Ingredients
7 c. grated zucchini
4 large ground carrots
3 medium ground onions
1 bell pepper, ground
4 c. sugar
1 tsp celery seed
1/2 tsp turmeric
1/2 tsp mustard seed
Instructions
Combine ground zucchini, carrots, onions and peppers together in a large bowl, add 1 tsp salt, mix well
Let stand for 3 hours
Drain or squeeze out juice with cheesecloth
Place in kettle and add, sugar, celery seed, turmeric, and mustard seed
Boil 20 minutes on medium heat
Pour into hot, sterilized jars and seal with a water bath canner
https://www.positivelymommy.com/2012/06/sweet-zucchini-relish-recipe/
**Positively Mommy occasionally provides recipes and other information about food preparation. Please keep in mind that it is the reader's responsibility to determine the value of these recipes, nutritional and otherwise. It is also the reader's responsibility to determine the safety of the preparation instructions. Recipes are prepared "at your own risk." We assume no liability, obligation, or warranty with respect to these recipes. Positively Mommy is not responsible for any damage, medically or otherwise, that could result from preparation of these recipes. Visitors must take care to check the instructions provided and determine their value and any possible medical condition that may arise from the preparation instructions and consumption of the ingredients listed in this site's recipes.