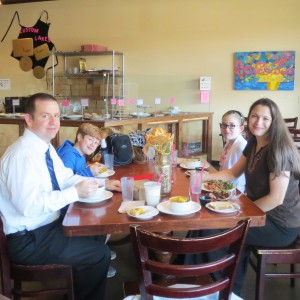 My sister in law recommended a restaurant / bakery to us when we were visiting Seattle.  She knows our family is gluten and dairy free and Seattle really caters to our dietary lifestyle a lot more than Utah does!  The restaurant she suggested was called Flying Apron. Boy was she right, we loved it!
Everything in the Flying Apron Cafe is gluten free, dairy free, and vegan.  I can't even tell you what it means to me to go into a restaurant and be able to eat ANYTHING I want off of the menu.  Usually, there is only one thing on a menu that I can have when I go to a "regular" restaurant, so this was like heaven, dessert heaven!  I thought the prices were reasonable and the food was really tasty.
The people that worked there were incredibly nice and helpful as well.  They even let me video their secret recipe for dairy free Italian sodas.  See that video and the recipe (which I have since used at home several times) at the bottom of the post.  Also notice that the Italian Soda is also sugar free (as long as you use a sugar free flavor syrup).  I have also used 100% fruit juices in the Italian sodas I have made at home and they are really delicious.
Also check out the Flying Apron's events.  They have a family game night and a live music night.  We were not there for an event, but they look really fun!
We tried out a lot of different things while we were there so I could give an honest review.  We had the kale salad, sweet potato curry pie, tomato basil soup, and shepherds pie.  Everything was really tasty, but the sweet potato curry was the absolute favorite and the one that everyone at our table liked the best.
For desserts we had the sugar cookies, lemon poppyseed muffin, pumpkin muffin, chocolate muffin, apricot jam thumb print cookie, cinnamon roll, etc.  All the desserts were really good.  If you don't like anything they sell, they have a 100% satisfaction guaranteed and they will give you something else.  I didn't prefer the pumpkin muffin and they gave me a chocolate one instead that I liked much better. They also have a 50% off on day old desserts.  I am not a big fan of day old gluten free desserts, so those weren't my favorite.  I would suggest the fresh desserts.  I wish I would have tried the cake, what was I thinking?!  I will have to go back again next time we visit the Seattle area.
 Here is a video of the restaurant itself and what food they offer
Here is another video from the Flying Apron on how to make a gluten free dairy free Italian Soda
Italian Soda Recipe
2 T. flavoring of your choice (caramel was used in the video)
1 cup sparkling water
1/4 cup of coconut milk
1/4 cup ice
Stir well, or blend in a blender.  My Blendtec makes a mean Italian Soda!
If you have any questions please post a comment and I would be happy to answer as soon as I can!