My kids love smoothies and this healthy strawberry banana smoothie recipe is my go to when we have company over or if we are just looking for a refreshing and healthy treat.  You don't have to have a Blendtec blender, that's ok. Just use what you have. But, if you plan to have smoothies often, I would highly recommend investing in one. I make a green smoothie every day for breakfast, and other blenders I've tried just didn't hold a candle to the Blendtec. I've had mine for several years and it's the most used kitchen appliance in my house. I can't say enough good things about it!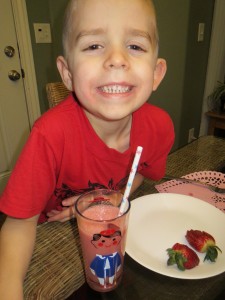 Strawberry Banana Smoothie Recipe
(put in blender in the order listed)
1 ripe banana
1 small can pineapple canned with natural juice and no sugar (optional).  Dump in the whole thing.  If you don't use pineapple, add in a tablespoon of agave nectar or honey to sweeten the smoothie.
1-2 cups coconut milk (or milk of your choice).  Use less for a thicker smoothie.
1 T. chia seed, a super-food and full of omega 3's (they are tasteless)
2 T. gogi berry, a super-food, kind of tastes like a raisin.
2 cups frozen strawberries
3 ice cubes
Blend twice on the frozen fruits function of the blender.
Additional things you could add: (unsweetened sparkling water instead of coconut milk, 2 c. spinach, grapes, honey, or mango)
Serve with an ice cub and a bendy straw and you're done!  In case you are wondering, the cups were purchased on ebay.