I love me a good dip.  When it's a warm dip, I really love me some!  This dairy free spinach dip is really fantastic, even for being dairy free.  I brought it to a family party as an appetizer and it was gone in about 2 seconds, even though I'm the only one in the family that is dairy free.  You could probably double the recipe and it would still fit in the small crock pot.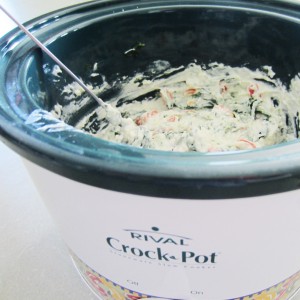 Serve it with a torn baguette, some tortilla strips or some gluten free breadsticks. This would even be a fabulous vegetable dip.
Add to your Little Dipper Slow Cooker:
8 oz Tofutti cream cheese substitute
4 oz. Tofutti sour cream substitute
2 cups shredded rice cheese (white)
1 box frozen chopped spinach, thawed and with the liquid squeezed out
1/4 cup chopped sundried tomatoes (if desired)
salt & pepper to taste
Place everything in the small slow cooker, and cook for 1-3 hours. Stir well. Switch to warm and enjoy.  If it needs to be thinned at all, add a little unsweetened almond milk.