This dairy free pasta alfredo recipe takes a little help from the grocery store (or from Amazon), but is big on flavor.  It's super easy and a great thing to put on pizzas, or in this case pasta.  It is also gluten free.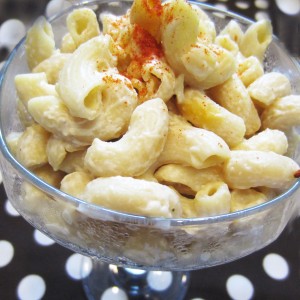 You will need
1 box of Gluten Free Dairy Free Elbow Macaroni. We used this Quinoa type and it was really good. If you are not gluten free, just substitute your favorite pasta.
1 jar dairy free alfredo sauce. This sauce is pretty tasty for being low carb and dairy free
a pinch of paprika for color
You could also mix in some cut up chicken, but we were going for vegan this night.  I think some sun dried tomatoes would taste nice in this too.
This is also a great recipe to have on hand for last minute dinners where you can just grab something from the pantry and make it quickly.