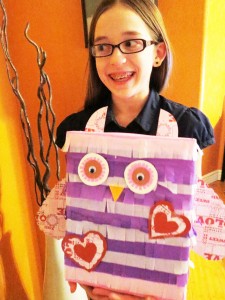 I don't do a whole lot of crafts.  Not because I don't want to, but just because I don't really have the time.  I would really like to do it more but life gets in the way!  The last couple years when I was working full time, I really missed having the time to make homemade Valentine's cards with my kids like my Grandma Kay used to do with me.  So, this year, even though I was still busy, I wanted to make the time to do that.  Here's the cards we made and some other easy Valentine crafts.
First, breakfast in bed made by my husband. Gluten Free heart pancakes using heart pancake forms. I love love love these!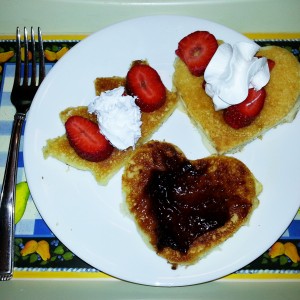 We will be having heart scrambled eggs (using the forms listed up above), heart toast, strawberry fans, and pink colada smoothies for dinner.  I will be posting those photos tomorrow.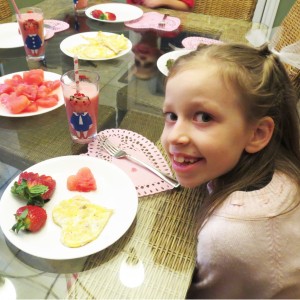 This year, I really wanted to make Valentines cards for my kids school classes.  I have 3 kids and so we had to make almost 90 cards.  I needed something easy and fun and I think this one fit the bill very nicely.  We spent a Sunday afternoon making these and we had a blast.  The kids are so excited to give them to their friends!
I went on over to Hobby Lobby and purchased a circle punch, some plastic eyes, glue dots, paper, and foam hearts and we simply glued them on and wrote "you" with a sharpie and then taped a heart sucker from the dollar store to the middle.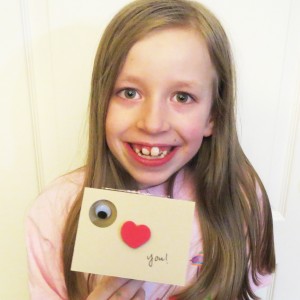 Only one of my kids needed to make a card box this year and her class was doing a contest for the best box.  Do you think she will win?  This owl valentines box she made (all by herself) was made all with things we had around the house.  She simply used an Amazon box, a few sheets of tissue paper, and some paper and glue.  She used the Cricut to cut out the paper around the eyes.  She cut a slit in the top to slip the valentines into.  Clever I tell you.  Thank you to Pinterest for the idea!
If you have any questions, please post a comment and I will answer them to the best of my ability.  Thank you for reading!