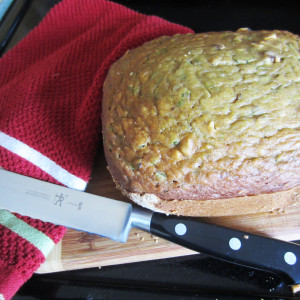 I love how easy it is to make this in my GF Breadmaker. Simply dump all the ingredients in and push start. It's that easy!  Once it's done, I carefully remove it from the pan, and take out the paddle and wash the pan and paddle right away before food has a chance to get hardened on.  My kids all like this recipe, so I think it's friendly for the whole family and a good way to sneak vegetables in.  We wouldn't do that though, would we?  Below you will find the gfdf Zucchini Bread recipe.
Ingredients
1/3 cup oil
3/4 cup zucchini, shredded
2 eggs
1/3 cup packed brown sugar
3 T. granulated sugar
1 1/2 c. gluten free featherlite flour
3/4 tsp. cinnamon
1/4 tsp allspice
3/4 tsp salt
1/2 tsp baking soda
1/2 tsp baking powder
1/3 cup walnuts (optional)
1/3 cup raisins (optional)
Instructions
Place all ingredients in order listed into pam sprayed bread machine pan. Press menu button for quick breads. Enjoy!
https://www.positivelymommy.com/2013/02/gfdf-zuchinni-bread-machine-recipe/