Looking for an easy cookie recipe?  Well, you've come to the right place.  These flourless peanut butter cookies are the easiest around with only 3-4 ingredients.
My kids can make them by themselves and I can remember the ingredients without having to use a recipe.  They are really tasty too.
Even my non-gluten free friends ask me to make these when they come over!  They are gluten and dairy free naturally and soft and chewy and yummy.
Now I'm craving one!  And no, that cookie on the right does not have a bite taken out of it :).
Step 1: Mix Ingredients
1 cup peanut butter
I egg
1 cup sugar + 2T. to sprinkle on top
1 tsp baking soda (optional)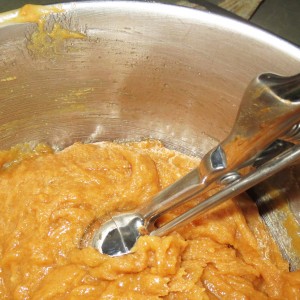 Step 2: Put on Cookie Sheet
Use a small cookie scoop or a teaspoon to transfer dough onto a parchment lined cookie sheet, making a ball out of each one.  They will spread quite a bit in the oven, so make them fairly small.  A teaspoon is plenty.  If you make them too big, you will have a cookie pizza, which could be fun!  I'm a bad example, on the picture below, I used too big of a scoop and I kindof ended up with a cookie mess, but I fixed it fine.  The next time I made them, I used a smaller scoop and they came out much better.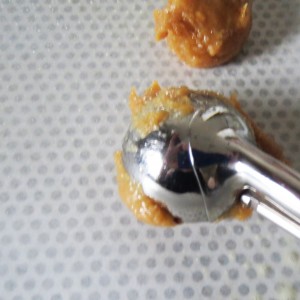 Step 3: Flatten and Sugar
Use a fork to make a criss-cross on each cookie ball to flatten and sprinkle a little sugar on the top of each cookie.
Step #4: Bake
Bake at 350 for 8-10 minutes or until a little golden on the edges.
Step #5: Cool and enjoy!
These cookies are soft and chewy and best when warm.  We have added in 1/4 cup dairy free mini chocolate chips and they are even better. So give that a try sometime!
Please post a comment if you have any questions.