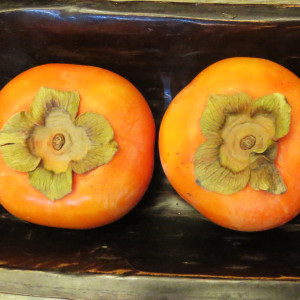 I just discovered this fall and winter fruit and it's exotic tasting!  I love persimmons, I think they're so cute!  They taste a little spicy (like fall) and a little sweet.  They are good to eat just like an apple or to cut up like a tomato (you don't eat the core of the persimmon).  I bought a lot of persimmons at Costco and wanted to use them to make a cake.  Holy Hannah, it was gone in less than 2 seconds.  It was carmely and moist and oh so good!
I had just received my pressure cooker in the mail so I wanted to try out a cake because I heard they are so moist.  Yes, they are!  However, I would suggest a separate cake pan insert.  I cooked mine right in the pressure cooker pan and it got kindof burned on the bottom.  The taste was still heavenly, and no one cared, but just so you know (see photo below).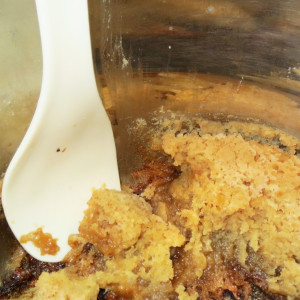 Here's what the finished product looked like and I know it looks kindof bland and boring, but it tastes a lot better than it looks, especially when served warm.  It's pretty heavenly.  I hope you will have a chance to try our this persimmon cake recipe for yourself!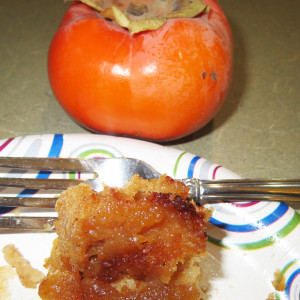 Ingredients
2 c. GF Featherlite Flour
2 tsp baking powder
1/2 tsp baking soda
1 pinch salt
2 1/2 cups white sugar
2 1/2 cups almond milk
2 eggs
2 cups persimmon pulp (I blended mine up in the food processor)
1/2 tsp cinnamon
1/2 tsp vanilla extract
6 T. melted butter
Instructions
In mixing bowl, combine persimmon pulp, baking soda, sugar and eggs. Mix well
Add flour, baking powder, cinnamon, vanilla, salt, milk, and melted butter. Mix.
Pour into a pressure cooker cake pan and press the cake setting.
The cake will fall when it cools, this is normal!
https://www.positivelymommy.com/2013/02/pressure-cooker-persimmon-cake-recipe/
If you have any questions, please post a comment and I will answer as soon as I can.  Enjoy!