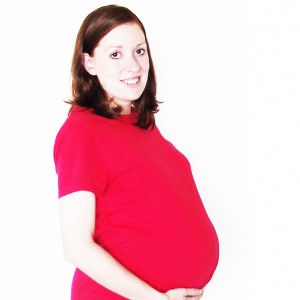 Well, I'm on baby #4 and am a very small framed person, so my belly stretches a lot during pregnancy as you can see from the photo!  I'm 5'3″ and 115 pounds (prior to pregnancy). I'm eager to share with you my tip on how to avoid stretch marks during pregnancy.
I have never had a stretch mark and I think it's because I use shea butter lotion on my belly from the moment I find out I'm pregnant. It is very very thick like "butta" (so much so that every bottle I've had has broken a seam in the bottle – but I prefer to squeeze it out of the broken seam than out of the small hole on the cap.).  If I feel itchy at all as I grow in pregnancy, I may put the lotion on twice a day and it helps a lot with the itchiness.  The lotion is fragrance free as an added bonus as fragrances can irritate and itch the skin.
It's better to prevent the stretch marks than to treat them after you get them (in fact, I'm not sure if it's possible to treat them non-medically after you have them).  I have found this method to be easy and effective.  Of course ask your doctor if this is right for you.