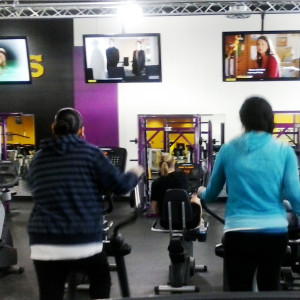 Hey there!  It's a great day here where I live.  We just had a snow storm come through and clear out the nasty nasty air we had been having for the last few weeks.  I can breathe again!
Well, as you know, each month I have been working on a new parenting goal to help me become a better Mom. I call it my parenting plan and I am working on my 5th month and my 20th week.  I post about my experiences each week.  I've had some successes and some failures.
I had kind of slacked off for a few years while I was going through some major health issues and then later working full time and I got into some pretty bad parenting habits.  I want to be better at what I consider the most important job on earth (and sometimes the most challenging job on earth).
This month I am working on getting healthy and getting my blood moving so I actually have energy to hang out and be present with my kids.  I am working on going to the gym 3 times a week.  I confess, I only went 2 times last week.  I don't like making excuses, because they are pointless, but I had some good ones and some bad ones too (laziness).  I will be better this week and just got back from the gym a few minutes ago.  I feel  so much better when I make the effort to go, but it's oh so hard to get myself dressed and out of the house so early in the morning.
I have found that going to the gym consistently for a couple months now has really changed my energy level (even though I'm in my first trimester of pregnancy – which is known for pretty severe fatigue).  I have found I don't need naps as often, which means I can get more done around the house, which means I am less stressed, which means I can give more of myself to my kids and let go and have fun.  Win Win Win.