Each Christmas in my husband's family, the cousins draw names and make each other a $5 gift.  We went to the fabric store after Thanksgiving to scope out our options.  First, I needed something my 11 year old could make for a 7 year old.  Second, I needed something my girly girl could make for a true boy.  It's not as easy as it sounds!  After combing the store, we settled on this fleece soccer blanket and my daughters cousin hugged it and loved it when he opened it, so I think it was a success.  I would say it took a little more than a half hour to make.  I cut the strips and she tied them.  We used 3/4 of a yard of no pill fleece that was on sale for $6 a yard at Hancock.
You can buy double the fabric and make a coordinating color on the other side like this one on etsy.  We were looking for something very simple, so we didn't do that.  I would like to try it some time though.
HOW TO MAKE A NO SEW BLANKET
Step 1: Spread out fleece fabric on a flat surface ( we used the kitchen table, but the floor would work too).  Make sure it's straight and all the wrinkles are smoothed out.
Step 2: Measure 4″ long x1″ wide fringe and cut all along the side THAT IS NOT THE SELVAGE EDGE.  You do not fringe the selvage edge, it just rolls up weird.  The cuts don't have to be perfect.  I started measuring for the first 10 or so, and then just eyeballed the rest.  I'm kind of lazy, but I couldn't tell the difference after they were tied anyway.
Step 3: Tie each fringe in a knot (see below).  Don't tie 2 fringe pieces together.  Each fringe gets it's own know.  In between each knot, kindof pull and tug at the fabric to straighten it out, other wise the knots will get tight and uneven.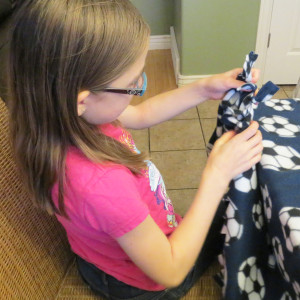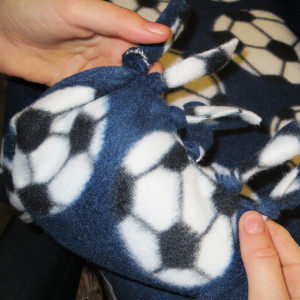 Cost: $5
Time to Make : 30-45 minutes
If you have any questions, please post a comment and I will answer it!  Thanks for reading this post and we hope to hear from you soon.