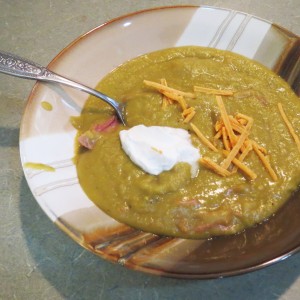 I love the silky smooth consistency of a good split pea soup recipe and as an added bonus, my kids really like split pea soup despite the bright green color!
It's a healthy, hearty, and satisfying soup and a go to meal for me when I'm preparing recipes from my food storage.  I canned my own split peas a few years ago (I borrowed the sealer from the cannery).  I used a ham bone purchased from my local Sprouts Market, but maybe you have some dried ham in your food storage that you could use… or even bacon… yum!  I personally think already cooked bacon should be in every family's food storage because it adds so much flavor and texture to recipes.
The inspiration for this recipe, came from here at Southern Food. It was adapted to fit my own personal food storage, but I think anyone can adapt this recipe easily to their own family's tastes and preferences.  It was very easy to make.  I would say it took less than 30 minutes of my time and the slow cooker did the rest!
The split pea soup recipe can be found below.  As you can see, I garnished my soup with a dollup of dairy free sour cream and soy cheese.  It was tasty…  mmm….
Split Pea Soup Recipe – Slow Cooker
Ingredients
2 cups dried split peas (not soaked)
1 ham bone
1/4 cup dehydrated carrots (or 3 fresh)
1/4 cup dehydrated onion (or 1 small fresh onion)
1/4 cup dehydrated celery (or 2 stalks fresh)
1 T. dehydrated garlic (or 2 fresh cloves)
2 tsp. dried parsley flakes
1 tsp. salt
1/2 tsp. pepper
1 1/2 quarts water (or vegetable broth)
Instructions
Put ingredients in crock pot in the order given above. Cook on low for 8 hours. Remove ham bone and place on a cutting board. Use an immersion blender to blend the soup and make it smooth. Shred ham and return ham to soup (discard ham bone). Serve with sour cream and cheese if desired.
https://www.positivelymommy.com/2012/12/split-pea-soup-recipe-slow-cooker/
Please post a comment if you have any questions.  Here's a good immersion blender and here's post about how to freeze celery. I use the freezer to preserve celery and use for food storage. It's very handy!