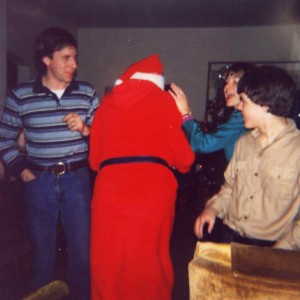 This is a photo circa 1979 of my grandpa dressed up as Santy Claus with my aunt, my cousin, and my Dad.  Oh the memories!  Those were the best days full of love, laughter, tradition, and the occasional family spat.  How I miss those Christmases past.
Well, we just got finished having a Gluten Free Thanksgiving and now it's time to start thinking about a gluten free Christmas!  I feel great since I've been gluten free (and dairy free) for the last 3 years.  I don't really miss a thing.  Ok, I lied, sometimes I'd like a good donut or a bowl of creamy ice cream.  Eh, it's no big deal though.  I'm blessed to have good health and to feel great because I can't eat that lovely rotten food.  I don't miss the stomach cramps and the fatigue at all though.  I feel blessed to have 2 wonderful health food stores within 10 minutes of my home in which I can get nearly any alternate ingredient I need.
We usually go to my in-laws house for Christmas Eve dinner and then late morning on Christmas Day.   I like to make a little somethin' somethin' special at home  after Christmas for my family.
Here's what's on the menu.  If you would like to see a recipe that's not listed below, please post a comment and I would be happy to get that for you!  Your wish is my command!
MAIN COURSE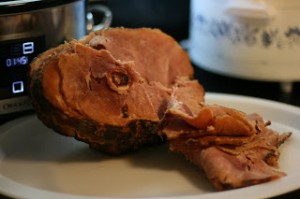 I guess "ham" just says Christmas to me.  I love that hammy goodness.   Again, I plan to take a little help from the slow cooker and will use Stephanie O'deas recipe.  Then I can free up my oven more more important matters, like funeral potatoes.
SIDE DISH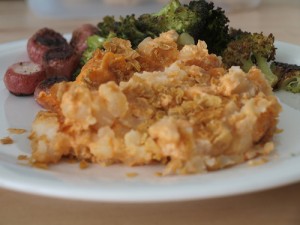 I have a thing for funeral potatoes.  I guess if you're LDS, you have to or something.  I really like them.  I plan to eat them.  I plan to eat lots of them and not let anyone share with me.  I will probably modify the the recipe and use my own dairy free cream of chicken recipe instead of their cheese sauce.
SALAD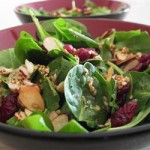 hmmm…. still thinking here.  Maybe this spinach cranberry salad.  I like how the cranberries fit in nicely with the meal yet aren't too overpowering.  Also, this would probably be about the only healthy thing on the menu :).
CRANBERRY SAUCE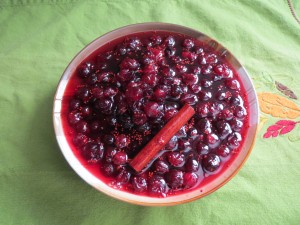 I have some of this cranberry sauce in the freezer left over from Thanksgiving. It was tasty and I think I can serve it for Christmas? What do you think? Are cranberry sauces suitable for Christmas dinner? If you need a refresher on how to make your own raspberry vinegar refer to our earlier blog post about that.
DESSERT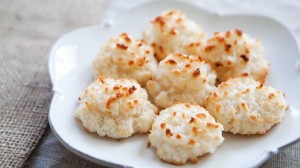 I prefer a light dessert for Christmas.  We usually have so many leftover neighbor gifts and I'm generally kindof sugared out.  Is that possible?  So, I intend to make these macaroons.  Maybe if I'm feeling spontaneous I'll make a quick bread or two, which could be consumed for Christmas morning as well.  Another option would be a banana cream pie.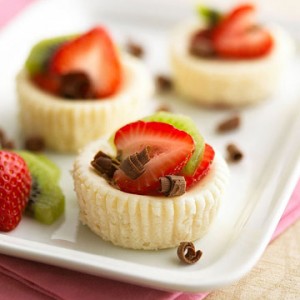 This mini cheesecake recipe looks yummy too. It could be modified easily to make it GFDF bu using dairy free cream cheese and almond milk + dark chocolate curls.
OTHER STUFFS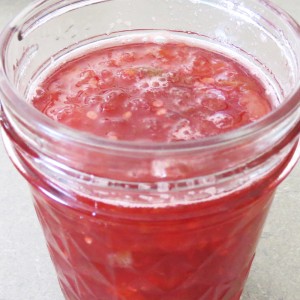 I'm thinking GFDF rolls from Good Earth (New Grains brand) served with festive green tomato jam canned this summer from the garden.  Then maybe an awesome fruit salad from my kiddos cook book with coconut in it or some traditional pear sauce with vanilla bean.  Then to top it off… some pear sparkling cider to add some bubbly to our special meal.
**Positively Mommy occasionally provides recipes and other information about food preparation. Please keep in mind that it is the reader's responsibility to determine the value of these recipes, nutritional and otherwise. It is also the reader's responsibility to determine the safety of the preparation instructions. Recipes are prepared "at your own risk." We assume no liability, obligation, or warranty with respect to these recipes. Positively Mommy is not responsible for any damage, medically or otherwise, that could result from preparation of these recipes. Visitors must take care to check the instructions provided and determine their value and any possible medical condition that may arise from the preparation instructions and consumption of the ingredients listed in this site's recipes.