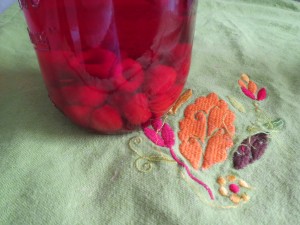 I had an occasion to need some raspberry vinegar to make this lovely cranberry sauce recipe for Thanksgiving.  I looked for raspberry vinegar everywhere and couldn't find it at my normal stores.  I did find a small bottle at a local specialty store for $15, but I didn't feel like it was worth it just to make one batch of cranberry sauce.  So, I set out to find out if I could make it.  And, shockingly enough, I could make it and I had everything I needed.
To make raspberry vinegar, all you need is an airtight container and
1 1/2 cups white wine vinegar (I buy mine for $2 per gallon)
1/2 cup raspberries (I used some that were in the freezer that came from my garden this last Spring)
HOW TO MAKE RASPBERRY VINEGAR
Step 1: Add 1 1/2 cups vinegar to airtight container (I used a mason jar- just because I have a thing for jars, I think they're pretty!).  I used a jar funnel, but you don't have to.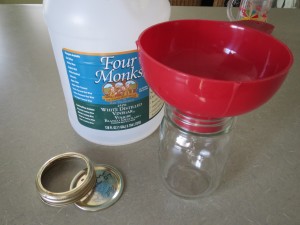 Step 2: Add 1/2 cup raspberries to vinegar.  It's ok to use frozen raspberries.  And, they will float.  This is normal.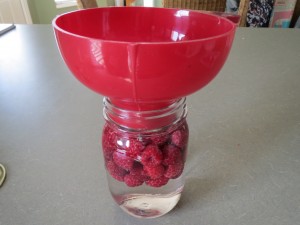 Step 3: Store in a cool, dry place for 2 weeks. I used the pantry, but you could use a cupboard or whatever you wish.  I marked my calendar for two weeks, because I simply do not remember things.  After 2 weeks, it will look luscious like this (below).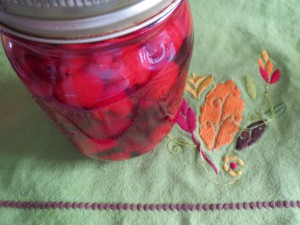 Step 4: (optional…read on) With a fine sieve or several layers of cheesecloth, strain liquid into a bowl and discard raspberries (of if you hate wasting like I do, use the pulp for something fruity and creative).  I didn't have a sieve, so just poured out the juice and left the raspberries in the jar.  I'm lazy.  Maybe you are too.  Maybe not….  If you want all the seeds taken out, by all means, use the sieve.  Use as you wish.  Then store unused raspberry vinegar in a mason jar or salad dressing container.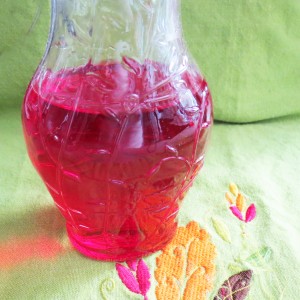 I would assume you could use this technique with just about anything (herbs, other fruits, etc), but I have not experimented with that myself.  Leave a comment if you have a good idea, I'd love to hear from you.
Voila!  It's that easy.  Less than $1 and we have lovely vinegar.  I could drink it right out of the bottle, but shhh…  don't tell anyone, they might discover I have a real problem :).
Here's the finished cranberry sauce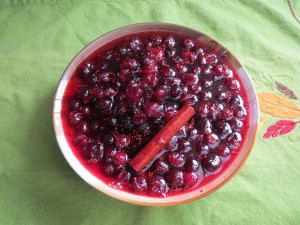 So that's how to make raspberry vinegar. Please post a comment if you have any questions and I will be sure to answer you!
***Disclaimer: **Positively Mommy occasionally provides recipes and other information about food preparation. Please keep in mind that it is the reader's responsibility to determine the value of these recipes, nutritional and otherwise. It is also the reader's responsibility to determine the safety of the preparation instructions. Recipes are prepared "at your own risk." We assume no liability, obligation, or warranty with respect to these recipes. Positively Mommy is not responsible for any damage, medically or otherwise, that could result from preparation of these recipes. Visitors must take care to check the instructions provided and determine their value and any possible medical condition that may arise from the preparation instructions and consumption of the ingredients listed in this site's recipes.