FUN THINGS TO DO AT THE SAN DIEGO ZOO


Our family recently went on a California vacation.  We went to Sea World, Disneyland, and the San Diego Zoo. It was one of my favorite family vacations because we were able to see a variety of things and spend lots of time together as a family.  It was a great experience for us.  Here are some things we liked to do at the zoo.

SEE THE ANIMALS (OF COURSE, SILLY).

Here is a video of all the animals we were able to see in 1 day at the San Diego Zoo.  We did not go to Safari Park (just so you know) because we didn't have enough time.  Our favorites at the zoo were the polar bears (listed below), the pandas, the primates (we even got to see a gorilla picking his nose!), and the giraffes.

SEE THE POLAR BEAR EXHIBIT
By far, my very favorite thing at the zoo was the Polar Bear Exhibit.  I liked it so much because you could see the Polar Bears up above in their natural habitat and then you could walk down below and see them swimming underwater in a giant glass tank.  It was absolutely breathtaking to see them interact with each other and with those watching them.  It was unforgettable!  The reason I liked it so much, was there wasn't any bells and whistles or tricks or training, just animal being themselves and being beautiful.  I like the shows and the trained animals a lot too, but there was just something wonderful about seeing these majestic animals just being how they are in real life. This photo doesn't really do justice, either does the video.  You kind of have to be there I guess.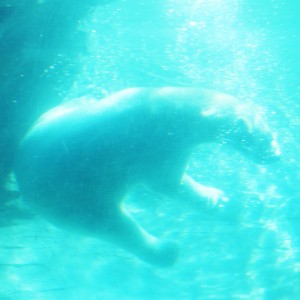 RIDE THE SKYFARI
This is an overhead ride of the entire zoo.  When we went, there was an extra charge, but I just went to the
san diego zoo
website and it doesn't mention an extra charge.  I think this is worth doing if you have time and it's free or a relatively low cost.
ENJOY THE PEACEFULNESS OF NATURE
Many of you might not know that the San Diego Zoo does not only rescue endangered species of animals, they also strive to keep endangered plant life and trees alive and thriving at the zoo.  The scenery and greenery at the zoo is breathtaking and incredibly peaceful.  It feels like a mild hike. I really enjoyed the reverence felt for nature while I was there.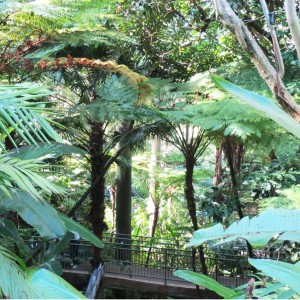 TAKE THE TOUR BUS
If you are unable to walk or just don't want to, there is a free tour bus available.  I pretty much hated whenever the tour bus would come by because it would ruin the peacefulness of my experience to have a loud, double-decker talking bus drive by.  But, I understand why some might like that.  As far as I know, the ride takes you through the whole zoo and you don't get out and explore, you simply sit and enjoy.  We didn't use the bus, we decided to walk through the zoo.  I'm glad we did, but the bus could be an option you might consider.  There is an "express bus" where you can get off at 5 attractions.  The busses are free with admission or cost a small fee if you are a season ticket holder.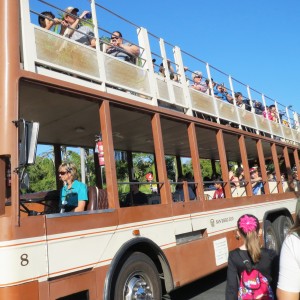 Here's some photos that we took on our trip.  I hope you enjoy them.  I don't know how to take the photos that are used up top and get them to come out of the gallery.  If you know how, would you please post a comment?  I'm sorry if there's photos in there you have already seen.