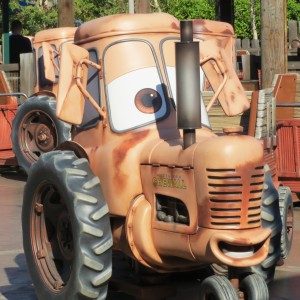 Our family visited Disneyland in the fall of 2012 JUST to see the new Cars Land and we were not disappointed!
We loved the happy feeling when we got there.  Disneyland is so amazing at creating "the experience" in everything they do.  The scenery was amazing.  There was careful attention brought to each building and restaurant.  Our family liked to hang out at the "Cozy Cone Motel".  It had lots of yummy lunch items and treats served in cones.  Disney just thinks of every detail and spares no expense.
We attended California Adventure on a "low peak" day, but Cars Land was plenty busy.  The park even had the mob patrol out to control the flow of people getting in.  I think the reason it's so popular is because there's finally something for boys that competes with the Disney princesses (but girls like Cars Land too) and because the Cars Land rides are really quite fun and you can go on them over and over without getting tired of them, which is a big plus for parents!
We took photos and videos of the Cars Land rides and scenery and hope you enjoy them. There are 3 rides in Cars Land (see them below).
Cars Land Quick Tour (Scenery and Rides)
The Real Lightning McQueen
you can take your photo with him, Mater, or the firetruck
Radiator Springs Racers Ride
so so fun!!! – long line though
Mater's Junkyard Jamboree Ride
loved this ride!
Luigi's Flying Tires Ride
They didn't have the beach balls on the days we went.
Cars Land Scenery at Night
breathtaking!