Well, this year (like every year), we are going to have a Gluten Free Thanksgiving.  I get a little overwhelmed when I start thinking about all the things we can't have. but then on the other hand, I turn around and feel grateful for 3 health food stores nearby that have everything I need to make this Thanksgiving a success.  And if they don't, I can find nearly any gluten free item I need on Amazon at a reduced price.  We are also dairy free, so that adds an additional element of substitutions but I will rest assured no one will be feeling sick this year…  well from the gluten that is!  I'm sure everyone will eat too much, that's a given!
We do get together with family and share the responsibilities of bringing food, but I generally make the things that we'd like that are gluten free, because I don't expect the family to do that for us.  If you have any recipes you like to serve for Thanksgiving, please post a comment.
Here's what I plan to make this Thanksgiving:
Slow Cooker Turkey Breast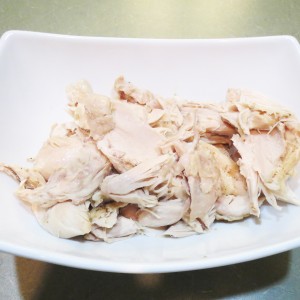 I like to make a turkey breast in the slow cooker so I can have the oven free for pies and other goodies.  I am using the recipe from one of my favorite blogs here on Crockpot 365.  It turns our perfectly every time.
Gluten Free Stuffing Recipe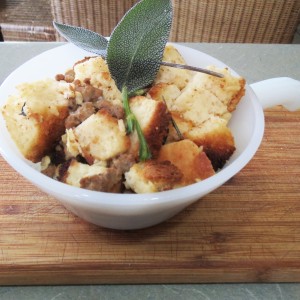 My daughter whom is also gluten free is a very picky eater, so I will be making the classic stuffing recipe from Serious Eats.  I like to have the extras in it like nuts and cranberries, but she would prefer it plain, which is fine with me.
Mashed Potatoes & Gravy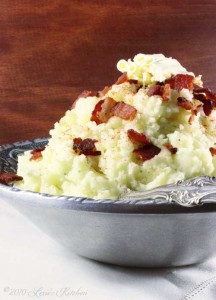 This recipe comes from Lexie's Kitchen and you can find it here.  I will probably leave out the nutritional yeast for Thanksgiving, just because I want to serve it with gravy using my favorite GFDF gravy mix.
Sweet Potatoes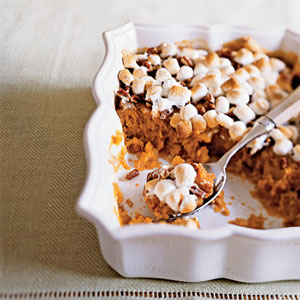 I think my favorite dish at Thanksgiving is the Sweet Potatoes.  I'm not kidding, I love them!  I will be using this recipe from myrecipes.com.  I will replace the butter with Earth Balance spread (because it's dairy free).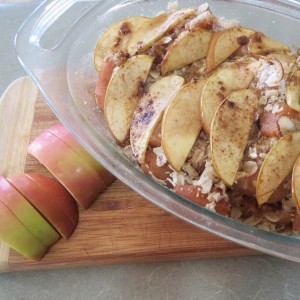 Putting apples and an oatmeal crumb mixture would be nice too and probably more healthy.  Do your kids like sweet potatoes?  Mine don't care for them, but I love them!
Rolls and Lemon marmalade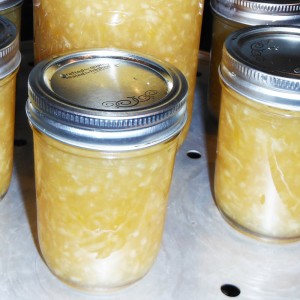 I put in an early order for rolls from my local health food store (Good Earth).  I order the multi-grain New Grains brand rolls and they are really fantastic!  I will be slathering the ever popular lemon marmalade that I made this summer on the rolls.
Creamed Corn
As a vegetable side I will probably serve creamed corn.  I generally make it in a small slow cooker, but I think this year to simplify, I will serve it from the can with a generous helping of dairy free butter and salt and pepper.  I don't think anyone will know, do you?
Pear Sauce
Pear sauce is a favorite of mine and a recipe I made up to use the pears from the pear tree in my backyard.  It's really a Thanksgiving staple to us and breaks up the dryness of the turkey.  You can find the recipe here on our blog.
Cranberry Sauce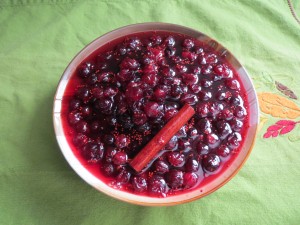 I pre-made 4 different kinds of cranberry sauce a few weeks ago (I made chipotle, raspberry, orange, and the one below).  I love love love cranberry sauce. It's very easy to make and tastes so much better than that stuff from a can (although I like that too). Link for the recipes coming soon…
Pumpkin Pie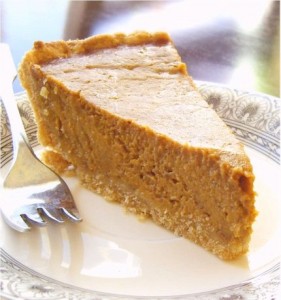 I order pre-made gluten free dairy free (GFDF) pie crusts from my local health food store and I put them in the freezer.  They are Charlotte's brand and are delicious and reasonably priced as well.   I will use those as I have never had any luck with making my own GF pie crust. This recipe from Go Dairy Free will be the one we will enjoy!  I'm so excited I can barely stand it.  I hardly ever get to eat pie, so I'm really looking forward to it.
Cheesecake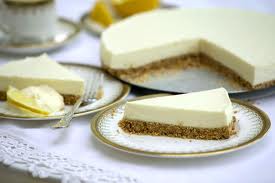 Cheesecake is my favorite dessert in the whole wide world.  I literally never get to buy it anywhere because it has dairy in it.  Going to the Cheesecake factory is torture, sheer torture for me!  However, the day after Thanksgiving I plan to make this delicious cheesecake from Levana Cooks.  It looks scrumptious, doesn't it?
Drinks
And to drink, non-alcoholic pear sparkling cider.  I also found some blood orange sparkling cider as well as cranberry.  I thought those would pair nicely with our meal.  There is also an apple orchard near our home where I can get fresh made apple cider.  That will probably make it onto our table this year.
Enjoy your gluten free Thanksgiving!