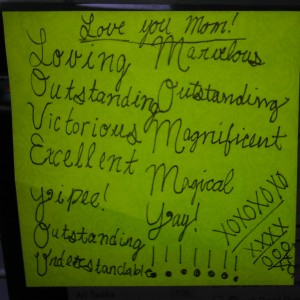 If you haven't been keeping up with my monthly goals, this month I have been working on giving my kids more hugs.  This is my second week with this goal, but generally I choose a different parenting goal each month and do baby steps to achieve it.  That's just how I work best.
It hasn't been a perfect week.  I guess it never is a perfect week.  It has been a great week until this morning when I woke up to my kids arguing and crying in the kitchen over a bag of granola.  It started off the day on the wrong foot and now I'm feeling worn out and in a bad mood.  I have to remind myself that sometimes there will be bad days, but I still need to keep trying.
I have still been working on giving my kids lots of hugs and it has been well received.  Even today when we were all a little upset with each other, I didn't let the girls go off to school without a hug.  I came to sit down at my desk and saw this note at my monitor.  It softened my heart, and it's a good thing it did that!
On to next week.  More hugs!