I have been freezing celery and onions for years.  It's so much easier to cut them up in big batches and it is so handy to then have them cut up for recipes later.  It's also helpful to reduce waste (because who uses a whole stock of celery anyway).  I hate to waste!  You can cut up the celery leaves in the bags as well.  They have lots of flavor, so don't throw them away. These celery stalks and onions were leftovers from my garden before the freeze.
Here's How to Freeze Celery and Onions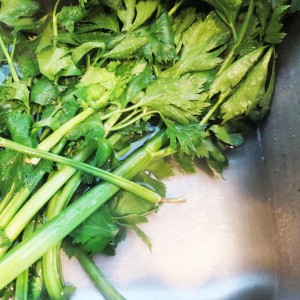 Step #1
Wash celery.  I clean out my sink well, then fill it up with cold water and 1 T. of white vinegar and soak the celery for a few minutes.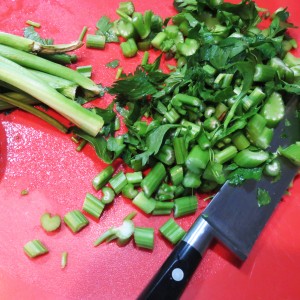 Step #2
Cut celery and leaves in small pieces.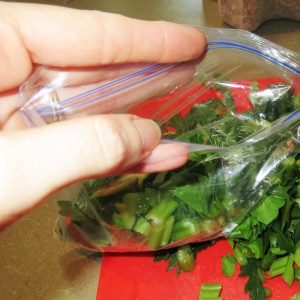 Step #3
Put celery servings in individual ziploc bags (I used the snack size).  If you wanted to be a perfectionist, you could dry off the celery so it doesn't get ice crystals on it.  I'm not a perfectionist, so I don't do stuff like that!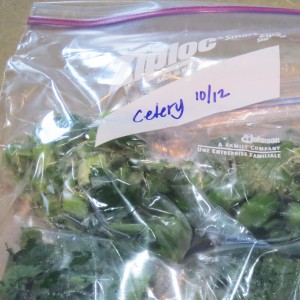 Step #5
Put each individual snack size ziploc in a gallon freezer bag and label.  It's that easy!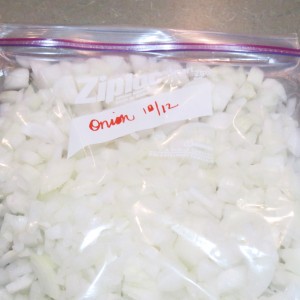 Follow the same instructions for onions (note:  I did not use individual bags on the onions because I was suffering from severe onions hurting my eyes so I shoved them all in 1 big bag.  I can break off what I need because onions are more pliable.  I wouldn't suggest this with the celery, it really does need to be in individual bags.).
What do you use the frozen celery and onions in?  Anything you want!  They work great with anything that is cooked (so I wouldn't put them in a green salad), but you can use them in soups, casseroles, meat dishes, pasta dishes.  You can't even tell they've been in the freezer, they taste very fresh.
TIP: The celery and onions will last about a year in your freezer.
Disclaimer: **Positively Mommy occasionally provides recipes and other information about food preparation. Please keep in mind that it is the reader's responsibility to determine the value of these recipes, nutritional and otherwise. It is also the reader's responsibility to determine the safety of the preparation instructions. Recipes are prepared "at your own risk." We assume no liability, obligation, or warranty with respect to these recipes. Positively Mommy is not responsible for any damage, medically or otherwise, that could result from preparation of these recipes. Visitors must take care to check the instructions provided and determine their value and any possible medical condition that may arise from the preparation instructions and consumption of the ingredients listed in this site's recipes.