It's that time of year again when I'm drowning in tomatoes and I can't eat them faster than they are growing in the garden!  This is a fantastic way to preserve the freshness and lovely taste of the tomatoes without having to eat them right away. You can even use cherry tomatoes in this!
I like to use the roasted tomato sauce on pizza, pasta, and in casseroles.  Anything that you would use regular tomato sauce in, you can use this for.
Once it's done cooking, you simply put it in a plastic zip top freezer bag and pop it in the freezer and it will be fresh and tasty for up to a year.
What is your favorite thing to eat tomato sauce in?  Comment and let us know!
How to Roast Tomatoes
Step #1
Wash tomatoes and take off green stems.  I cored my big tomatoes, but you don't have to.
Step #2 – Put a thin coat of good quality olive oil in a roasting dish until it's covered on the bottom with a thin layer.  I wouldn't use a Teflon pan here.  Stick to some kind of pottery or enamel.  I would think the acidity in the tomatoes would eat through the Teflon.  I don't use teflon at all because of the health risks, but I'm just mentioning it to you in case you use it.
Step #3 – Put in your tomatoes on top of the oil, fresh herbs (I used fresh rosemary, thyme, basil, and an Italian dried spice blend, salt and pepper- you can use whatever you like), 6 cloves garlic, 1 onion, and 1 green pepper.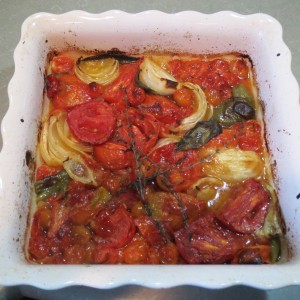 Step #4 – Bake for 30 minutes at 375 degrees.  Stir, and then bake for 30-60 minutes longer or until your veges are caramelized.  Cool on counter.
Step #5 – Blend to desired consistency.  I used the "soup" function on my blendtec blender.  The funny thing is, every time I make roasted tomatoes, it comes out this bright orange color and remains that way.  It's so funny!  It's very sweet and has a lot more flavor than "regular" tomato sauce and I know you will love it.  It also makes the house smell tantalizing!
Next, pop this into a freezer bag and put in the freezer for up to a year, or use it immediately on your favorite pasta or pizza!