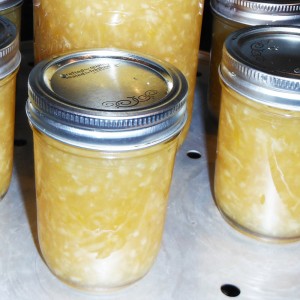 Ever since I saw this honey lemon marmalade recipe here on Food in Jars, one of my favorite blogs, I've been dying to make it. Dying I tell you!
I love lemons.  Love Love Love Love lemons.  Lemons are a comfort food for me and I use them a lot in the winter time when I have a sore throat or am not feeling well.  I boil a lemon in some water and add some honey, then drink a whole lot of it.  I can see myself putting a spoonful of this jam in some steaming water and feeling it's healing effects immediately!
This wasn't the easiest or least messy thing I've ever canned.  It kind of was quite a bit of work but not much more than other jams I've made.  So, set aside a couple hours if you want to make this.
I purchased these lemons at Costco for about $6 for a 5 pound bag, and they were lovely, juicy and large.  I ended up with 4 left over that I used for making salmon. I washed the lemons well.  Then sliced them until they would fit into my food processor with the slicer/shredded attachment in.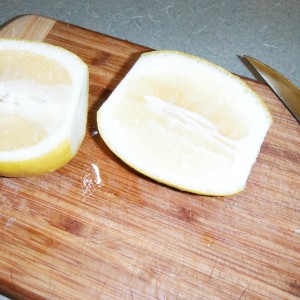 I simplified the recipe by putting the lemons in my food processor, instead of chopping them by hand, as seen below.  I also had some helpers with this recipe, which makes it even more fun!
I also added about a cup of sugar more than the recipe called for because my marmalade was pretty bitter.  This jam is a little bit of an acquired taste.  I loved it.  My husband liked it.  My kids thought it was ok.  My father in law thought it was fantastic.  I guess it just depends on your tastes.  I think it's a valuable thing to have in my food storage and it has multiple purposes for me.  I would definitely make it again!
For the honey lemon marmalade recipe, click here.  Enjoy!