How to Can Cherry Tomatoes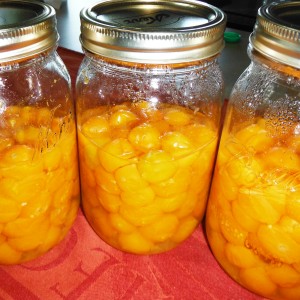 A dear friend and neighbor invited me to her home to pick grapes for my How to Can Grape Juice post.  Her entire backyard fence was full of the yummiest, juiciest grapes and I was allowed to take as much as I wanted!  Her son ran out of the house and let me know that they had more cherry tomatoes than they could use and boy did they have a lot!  He gave me a grocery sack and I filled it up and took it home.  Aren't they a lovely orange color?
I knew I only had a day to use them all up before they went bad, so I searched online about what to do with them and I did a lot of research to find out if it was safe to can the tomatoes without cooking them first and if it was safe that there is air in the jar after they cook down. Check here if you want to read about it.
It appears since I water bath canned them for 90 minutes that they would be free from bacteria and it seems the air in the jar is not a problem as long as the lids seal (which they did).  This was the easiest thing I have canned and a good way not to waste tomatoes.
The nice thing was, I packed the jars all the way to the top with tomatoes.  I filled up 4 quarts and then used the rest of the tomatoes in salsa which turned out spectacular.
Watch this video to find out how to can the cherry tomatoes and what to do with them once they're opened (it's in the middle of the video episode).  I did not put the onion or the thyme in because in my opinion, that would require pressure canning and I do not have a pressure canner.  I can always add those in later anyway.

Here's another good resource for canning tomatoes in larger batches.
Disclaimer: **Positively Mommy occasionally provides recipes and other information about food preparation. Please keep in mind that it is the reader's responsibility to determine the value of these recipes, nutritional and otherwise. It is also the reader's responsibility to determine the safety of the preparation instructions. Recipes are prepared "at your own risk." We assume no liability, obligation, or warranty with respect to these recipes. Positively Mommy is not responsible for any damage, medically or otherwise, that could result from preparation of these recipes. Visitors must take care to check the instructions provided and determine their value and any possible medical condition that may arise from the preparation instructions and consumption of the ingredients listed in this site's recipes.