I feel like the title of this post is misleading.  It seems more like a dance move or a sports game that I am doing a tutorial for.  But no, just wait, this is much much better than any dance or sport!  It's food!
I love vinegar.  I can drink it straight from the bottle I love it that much.  When I was a kid, I used to do that. Now because of peer pressure I feel like it's not the "cool" thing to do.  I like hanging out with the cool kids, so I don't drink vinegar…  in public.
It turns out, drinking vinegar is healthy for you and helps clear out your digestive system (TMI?).   And if you're a marathon runner, you should drink pickle juice after your races, so there's no reason not to love it. I clean with it at my house.  I have lots of it in my food storage, so why not pickle something?  It seems obvious, right?  You agree don't you?  I used a gallon in these recipes!
We had a little canning class at our church last month.  The lady who taught it brought some pickles.  I couldn't stop thinking about those pickles!  So, I learned how to make them.
For the prize winning Bread and Butter Pickle recipe (picture shown above), see this link here.  I loved learning how to pickle from this recipe.  Thank you Marilyn and Nanette for finding some pickling cucumbers for me this late in the season so I could satisfy my unusual craving!  The teacher uses Mrs. Wages mixes in her canning and she swears by them. I didn't use them this time because I needed a little pickling salt and sent my husband to the store to get it and he came home with a gargantuan bag of the stuff, so I wanted to at least make an effort to use it up!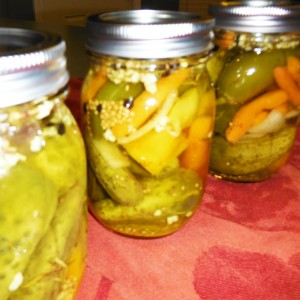 Now, the lady who taught the canning class also brought spicy pickles where there was a whole jalapeño in the jar.  OH, I just couldn't resist, so I made some of those too.  The only bad thing about pickles is they have to "cure" for 2 weeks before you can eat them.  The pickles need to absorb all of that vinegary goodness and all.  It's hard to be patient!  You should have seen the look on my husband's face when he saw these beauties sitting on the counter.  Priceless, I tell you!
So, I found the recipe for the Spicy Pickles here. I used the method without dill and replacing with rosemary. It pained me severely to do this because I love dill almost as much as I love vinegar, but my husband despises dill with a vengeance and I wanted to enjoy these with him.
I have found out that pickling is fun and sometimes a lot quicker and easier than other canning.  It also allows you bottle vegetables without the use of a pressure canner which I've always been scared of using, but I still want one (I hope my husband is reading this, Christmas is coming up quickly!) 
TIP: I didn't use this on my pickles, but I've heard good things about Pickle Crisp from Ball to keep your pickles from getting soggy.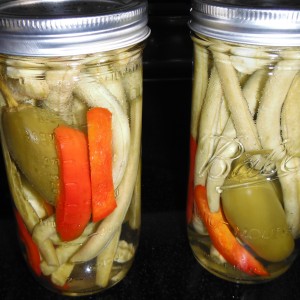 Next, I was at my favorite fruit stand yesterday and I just couldn't resist the huge bag of green beans for $3 and the jalapeños for 20 for $1 AND red peppers for .25 cents.   I knew I could make something delicious from this combo.  I have this "thing" for fresh fruit and vegetables.  They are just so colorful and inviting.  I need help and I know this.  On many different levels.
Anyway, I found a new favorite blog called Food in Jars and she had a recipe for dilly beans. My husband doesn't like dill, so I just left it out and I will season it when it comes out of the jar in 2 weeks. And it will come out of the jar in 2 weeks, believe you me.  I modified it a bit.  I put in a whole jalapeño instead of the cayenne and I just left out the seasonings because I will just do that later.  I was in a hurry.
You will need to steam can all of these to make a seal on your jars so that they will last for 1 year+ without being refrigerated.  I used my nifty pint and a half jars for these because the beans look lovely in them and unmarred by breakage. I think they look more appetizing when they are not cut.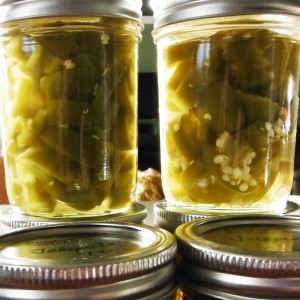 Next on the agenda was pickling jalapeños.  I cheated a little, because I just doubled the pickling brine for these and added them to the beans.  So basically all I did was dice them, throw them into the jar and add the simple brine and then process the jars.  It was my fastest canning endeavor by far.  I did the beans and the jalapeños in less than an hour including processing times!  I will use these in chili, salsa or tacos.  Basically whatever you would use those little cans of "green chilies" you can use these in.  If you don't like spicy you can take the seeds out (as in the jar on the far left).  If you like very spicy don't take out any seed.  If you like medium, take out some of the seeds. Click here for the recipe.
TIP: Wear food grade gloves and don't touch your eyes after cutting these babies.  Oh the burning!  I don't speak from experience here, clearly.  Again, all of the pickled bottles need to cure for 2 weeks before eating.  It's so hard to be patient!
I loved learning how to pickle and am happy to add a new skill to my canning repertoire.  I must say that it was easier than my other canning escapades and  my jar count for last month has now reached 100!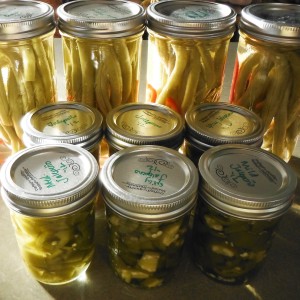 Happy Canning!
Please post a comment if you have any questions or have pickled something that was very tasty!
Disclaimer: **Positively Mommy occasionally provides recipes and other information about food preparation. Please keep in mind that it is the reader's responsibility to determine the value of these recipes, nutritional and otherwise. It is also the reader's responsibility to determine the safety of the preparation instructions. Recipes are prepared "at your own risk." We assume no liability, obligation, or warranty with respect to these recipes. Positively Mommy is not responsible for any damage, medically or otherwise, that could result from preparation of these recipes. Visitors must take care to check the instructions provided and determine their value and any possible medical condition that may arise from the preparation instructions and consumption of the ingredients listed in this site's recipes.