I am a Mormon.  We have been counseled by our Church leaders for years to keep a year's supply of food to help our families in case of an emergency or job loss.  We haven't had an emergency or a job loss, we just have all this food storage and I don't ever use it.  It's cheap, it's healthy, and it's just sitting in our cellar in the basement collecting dust, so I figured I'd give eating food storage a whirl.  The extra money doesn't hurt this time of year during the holidays.  I think we've saved about $400 so far in one month by eating our food storage.
I must say, I have really enjoyed eating it!  I didn't think I would.  I haven't heard one complaint from my kids.  They are eating healthy and they love it.  I might want to keep this up!  I like to collect good food storage recipes and this is one of them.
Granola is very healthy and hearty and will keep you full until lunch time.  It's so much healthier than boxed cereal!  It's gluten free (as long as you use GF oats).  It's also a nice thing to eat with yogurt or on top of ice cream.
Ingredients
Main Ingredients
8 cups GF rolled oats
1 cup almonds
1/2 cup flax seeds
1/2 cup quinoa
1/2 cup sesame seeds
1/2 cup sunflower seeds
1/2 tsp. salt
1 cup coconut (optional)
2 tsp cinnamon
In a SEPARATE bowl:
1-1/3 cup honey (melted - pours easier)
1 tsp. Vanilla
3/4 cup oil (Canola is great, Olive is salty)
Later:
2 cups dried fruit
Instructions
This recipe can be doubled or tripled easily.
Combine in large bowl: oats, flax, quinoa, nuts, seeds, salt, coconut, and cinnamon
Mix separately, then add to above mixture: honey, vanilla, and oil.
Mix thoroughly, spread on large cookie sheet with a parchment liner and bake at 350 degrees for 20-25 minutes, stirring half way. When remove from oven let sit, but not too long or it'll stick to cookie sheet. After baking, add 2 cups of any dried fruit after it comes out of the oven. Store in an airtight container for up to 2 months.
https://www.positivelymommy.com/2012/10/food-storage-recipes-granola/
We have really enjoyed this recipe.  We used the cannery apple slices for the dried fruit for one batch and then made another batch with dried blueberries from Costco.  We served it with a banana and the grape juice we canned last month.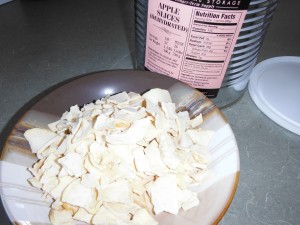 Make sure to store it in an airtight container.  I like  It will last for a couple months if you don't eat it all by then!  This amount lasts about a week in our family of 5.  I like this one. We try to reduce cancer causing plastics in our life, so we use more glass.  It is heavier though, so keep that in mind.  This granola weighs about 10 pounds!