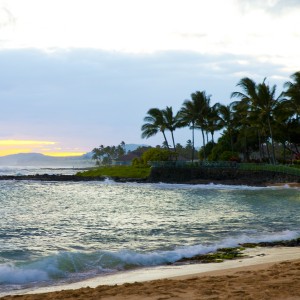 We recently returned from a vacation in beautiful Kauai.  Here's a list of our top 10 things to do in Kauai.
#1 Catamaran Ride on the Na Pali Coast
We really enjoyed the catamaran tour we took along the Na Poli Coast in Kauai. The Na Poli coast can only be explored by boat or by extreme hiking. The ride we took was a few hours long and the boat was really FAST. We got to explore so many beautiful things, it's hard to describe them all in detail. My favorite thing was actually going inside the Na Pali caves on our boat. We got to see amazing waterfalls and stunning beaches. WE got to snorkel in the still clear waters and enjoy lunch on the boat. If you want to explore Na Pali, this is the only way!
#2 Explore Poipu Beach
TIP: It's always windy and rainy in Kauai, so be prepared!
We had lots of fun exploring Poipu Beach.  There are sections of it that are completely deserted (meaning no people there).  It's so peaceful to watch the waves and just let go of any stress you have in your life.  We went boogie boarding at the beach.  We rented a boogie board at a Surf Shop across the street for around $5 per day.  I had never boogie boarded before, but I had lots of fun catching the waves.  I got pummeled a few times and had sand in area i never knew sand could go!  It was a blast and I would gladly do it again.  However, on the day we went the waves were pretty fierce.  I think I would enjoy it more when the waves were slightly calmer. We recommend this sunscreen. It is only sold in Hawaii and online and it is really a high quality sunscreen that will protect you from the harsh Hawaiian sun and salt water.
#3 Zipline Tour & Rope Swing
Zip from tree to tree through the Kauai jungle forest.  This was a hilight of our Hawaii vacation was the Zipline tour we did with Just Live Zipline Eco Tours.  We also did the rope swing after.  See both videos above (these videos are both of me). See my husband laughing at me as I do the Rope Swing. That was so freaky, but a good freaky!
#4 Helicopter Ride Over Kauai
The Blue Hawaiian helicopter ride we took was a major hilight of our vacation.  Seeing an arial view of the whole island was spectacular and you can only see some area's of the Kauai jungle in the air.  We felt very safe and the pilot was very nice and welcoming.  By some special grace I was able to sit in the very front by the big window so I could video and take photos with my DSLR.  Check back later as I will do a review on Blue Hawaiian as well as post pictures of our helicopter ride over Kauai.
#5 McBryde Botanical Gardens
I don't think we ever saw a real live person in these gardens until we took the shuttle back to the main entrance.  What can I say?  It was so peaceful and calm at these gardens.  It was just a lovely and breathtaking experience to explore the plants native to Hawaii.  We even got to see some cool birds and lots of not so cool mosquitoes.
#6 Explore The West Shore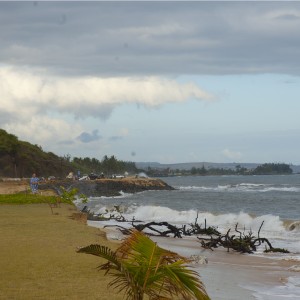 The West Shore isn't the most exciting beach because the waves are so treacherous, but it was nice to watch.  We took a picnic lunch and listened to the waves crash against the beach.  We even saw a fisherman there!
#7 See Waimea Canyon
Waimea Canyon also called the Grand Canyon of Kauai.  There are places here where you can hike and explore, or just drive by and take photos.  The view and landscape are quite stunning as you can see!
#8 Visit a Fresh Fruit Stand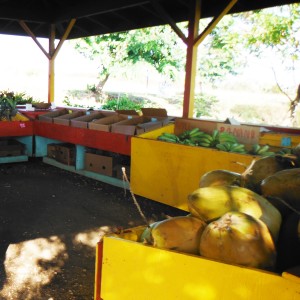 We got the freshest most delicious fruit for eating and for smoothies at these stands that are on the side of the road.  They are extremely inexpensive.  $10 will get you a lot of fruit.  Try the apple bananas and the passion fruit.  Yum!
#9 Do Some Shopping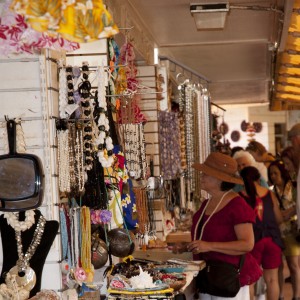 There are quite a few farmers markets where you can buy local wares and souvenirs.  We didn't buy anything here but it was fun to look around.
#10 Spouting Horn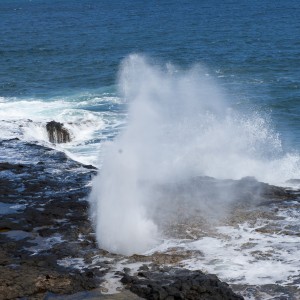 This only takes 5 or 10 minutes to see but it's really amazing how the water shoots up out of this hole like  cannon and the whoosh sound it makes is unforgettable.  This is a fun spot to see!