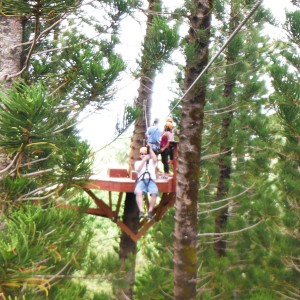 This summer my husband and I traveled to Hawaii to celebrate our anniversary and we spent a couple days in Oahu and a week in Kauai.  We did a lot of special things, but my favorite was Just Live Zipline in Kauai (Lihue), Hawaii.  It was a hilight for me because it was a little out of my comfort zone and I probably wouldn't have done it without some coaxing from my husband.  I would consider it an extreme sport, and I'm not very sporty.  I'm so glad I did it though!   The whole time you are on the tour, (until the end of course) your feet never touch the ground, you jump from tower to tower.
It was quite pricey, around $120 per person, but I think it was worth the price.  How many times in your life will you have the opportunity to jump through the Hawaiian forest anyway?
TIP: Bring bug spray
When you arrive, you will be put into a group.  We had about 9 people in our group.  Then you will receive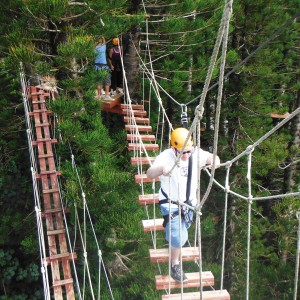 safety gear such as a helmet, a harness and carribeaners to attach to the zipline.  The staff will show you how to use everything and will check and double check to make sure all the equipment you have on is secure and that you know how to effectively use the carribeaners.
This tour takes you on 6 different guided (with tour guides/helpers) ziplines.  For the first one you will climb up to a straight wooden tower on a wooden ladder.  Once you get to the top of the tower (where you are standing on the structure) you clip into the line so if you fall, you will be safe.  You always stay clipped in and you feel very secure.  It would be pretty hard for someone to get hurt or fall, probably nearly impossible.
You will cross a couple wooden bridges along your tour.  They move and sway (but you are clipped in to the line with a carribeaner, remember) and you have ropes on the sides to hold on to.
I felt unsure about my footing on the bridges, but I wasn't worried about them at all.  A couple other people mentioned the bridges were the hardest part.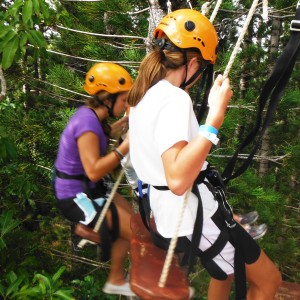 Tip:  Wear athletic clothes (jeans are not recommended, especially for guys) and sturdy shoes
Jumping off the platform structure the first time was a little scary and I did so with apprehension, but once I got going, I was having so much fun, it didn't matter and after that I jumped with ease and excitement.
On one of the platforms you zipline to, there are tree swings.  They are really fun (again, you are still clipped into the line with your carribeaner so you can't fall…  very far)
TIP: Bring a camera.  We like this one.

If you are afraid of heights, this probably isn't the best choice for you.  There were 2 ladies on our tour who were terrified of height and they were trying to conquer their fears by doing a zipline while in Hawaii.  You can see how scared she is in this video, but by the third jump, she wasn't scared at all and she was having a great time!  The 2 guides that were with our group were incredibly fun and patient with us.
Here's a video of me doing the Zipline
Here's a video of Steve videoing while ziplining
 The sound you hear is the wind and the carribeaner going across the wire.
Since this is a review, I would give the Just Live Zipline Tour a 10 out of 10 for fun and a 10 out of 10 for safety.  I loved every minute.  If you have any questions about the tour please post a comment and I will answer it!
After the tour, we had the option of paying $15 for a tree rope swing.  Boy I had no idea what I was getting myself into when I agreed!  That was so much more scary than the zipline, but again, I"M SO GLAD I DID it.  See my husband laughing at me multiple times when the crew takes me up higher than they took him (because I'm petite).  That was so not cool!
Just Live Zipline Tours also does other things, like a ropes course and team building experiences, but we didn't do those, so I can't review them at this time.  If we ever go back to Kauai, I'd like to try it out though!