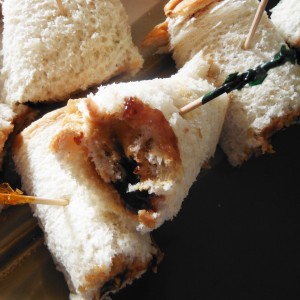 I hate complaining.  I hate it even more when the kids complain about what I make for dinner.  Oh it bugs me!   I have one child in particular who just hates to eat anything with meat which is generally what I like to cook.  Since being GFDF there's really not a whole lot to make that doesn't have meat in it.  And I like meat.
So to combat the complaining, I've instituted Cooking with Kids at our home.  Each week one child gets to choose anything they would like to eat (as long as it's healthy) and helps me to do the shopping and make it.  It has worked smashingly so far.  And, the other kids are banned from complaining about it even if they don't like it.  Ha!
Well, in today's episode…  well, it's not really an "episide", it's more of an 8 year old giving a photo tutorial… we're going to learn how to make PB&J sushi rolls.  We made some with regular bread and some with gluten free dairy free (GFDF) bread.  I was skeptical at first… I thought, "No, not healthy".  But I pushed my thoughts aside because this is my picky daughter and she deserves to like dinner once a month.  It's ok if her one choice doesn't fit my perfect description of healthy.  We did choose healthy side dishes so it worked out great.
1. Choose your bread type and your favorite creamy peanut butter.  We chose Wonderbread and Udi's Gluten Free Multigrain.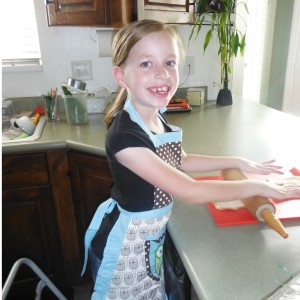 2. Roll out the bread with a rolling pin.  Oh this girl is so cute, isn't she?  Isn't her apron adorable? It's very high quality and we get a lot of compliments on it. I wish they had one in my size! We got it here.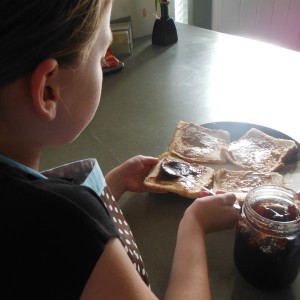 3. Spread peanut butter and jelly on the SAME SLICE of bread.  We used raspberry jam and for my daughter who hates raspberries, we put rose petal jam on hers (yum!)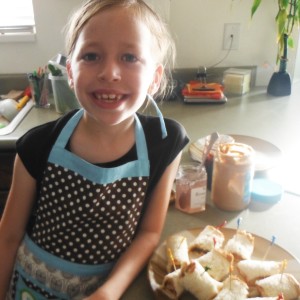 4.  Then simply roll them up, cut in half and put a decorative toothpick in to make it pretty.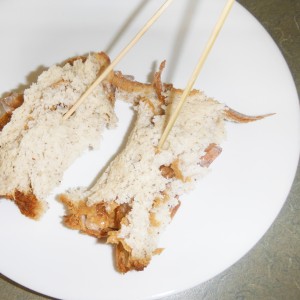 5.  We kindof had a fail on the gluten free version of the sushi roll.  I think it preferred not to be sushi.  However, I think it's because we used stale bread.  I think it would have worked better with fresh and homemade bread that tends to be softer and less dry.  It still tasted good.  Really good.
6. We served the sushi rolls with a fresh peach smoothie, green salad with strawberries (not pictured), and green beans and cherry tomatoes from the garden.
She was happy so everyone was happy.  I thought it tasted yummy!
We hope you have enjoyed this episode of cooking with kids.  If you would like to see us make something in particular, please post a comment!
Disclaimer: **Positively Mommy occasionally provides recipes and other information about food preparation. Please keep in mind that it is the reader's responsibility to determine the value of these recipes, nutritional and otherwise. It is also the reader's responsibility to determine the safety of the preparation instructions. Recipes are prepared "at your own risk." We assume no liability, obligation, or warranty with respect to these recipes. Positively Mommy is not responsible for any damage, medically or otherwise, that could result from preparation of these recipes. Visitors must take care to check the instructions provided and determine their value and any possible medical condition that may arise from the preparation instructions and consumption of the ingredients listed in this site's recipes.