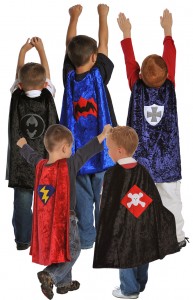 Last year some friends and I brainstormed some ideas for capturing kids imaginations.  Since all of our kids pretty much wore dressups all day long, we decided if wouldn't be difficult to get them into an imaginary world on film by dressing them up in costumes and asking them questions about the character they were dressed up as. Naturally, once they had the costume on, they actually became the superhero or princess easily.  It was fun to watch kids who are shy in many circumstances really come out of their shell and say the funniest things because they were clearly the character they were dressed up as and they could forget their inhibitions.
We wanted to bottle up their enthusiasm and gain access into their world by asking them questions about certain characters or heroes that they were interested in.
In episode 2, we ask a little boy about Batman.  My favorite part of the video is when he talks about the Joker and says, "He jokes people".  Kids have the cutest imaginations and we wanted to capture that in this video.  This boy is so darling and just seemed to know everything there is to know about Batman as you can see in the video below.
Watch the video here:
For years, our family had searched for costumes that were durable and suitable for every day wear (Halloween costumes seemed to fall apart easily and be itchy for our tender-skinned kids).  We came across the Little Adventures line and we nearly have all of their dress up clothes now!  I like that everything they sell is machine washable and made with non-itchy fabrics.  If you'd like the capes in the video, The cape he is wearing is so cute and comfortable to wear and he loved it as you can see.  You can find the set of 5 capes here on Amazon.
For another Lil Imaginators video (Episode 1), click here.