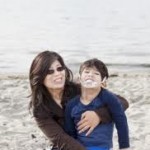 Do you have a child who is disabled?  If you do, I personally think parenting disabled children is one of the hardest jobs on earth. I  have also heard that while it is difficult, it is also very rewarding to know you are making a difference in the life of a child.
I was moved by this article in McKay today about the effects positive parenting with disabled children can have.  I am constantly in awe about the simple things that make a big difference.
This quote from the article is particularly interesting, "The data showed a positive association between parenting and child outcomes.  When there is positive parenting, there is a beneficial effect on the social and developmental outcomes of children.  They also found that the greater the maturity level of the parent, the greater effect they had on a child's life.  "The results provide support for efforts to evaluate and promote effective parenting skills when providing services for young children with disabilities,"
If you have a disabled child, would you please post a comment about any ideas you have that can help you stay positive while faced with a difficult challenge, such as parenting a disabled child.
See the full article here:
Positive Parenting with Disabled Children
**All parenting advice and information on Positively Mommy is provided for informational purposes only. Unless otherwise noted, the site content is not written by doctors, psychologists, or other health care professionals. The staff at Positively Mommy do not have psychiatric degrees or any other therapeutic training. The majority of our advice is drawn from personal experience and thus represents personal opinion. It is not a substitute for professional medical or psychological advice, diagnosis, or treatment. Any reliance on the information Positively Mommy provides is solely at the risk of the user. Positively Mommy does not assume any responsibility for damage or injury to persons or property that may arise from the use of the advice and information Positively Mommy provides.