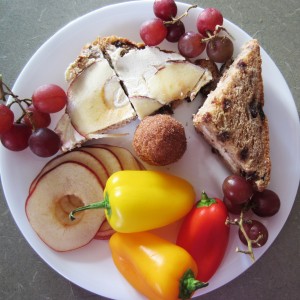 My visiting teacher, Heather, just adopted the most beautiful baby boy this summer.  He is so squishy and cute!  He has lots of dark brown hair and is just adorable.  The adoption happened unexpectedly and at the very last minute and this baby is her first so she had absolutely nothing for the baby so she needed lots of support.
I wanted to help out in some way, so I decided to hold a baby shower for her. I was leaving for an extended vacation 2 days after the shower, so I didn't have much time to plan or cook for this, but I did my best to make it fun and enjoyable for those who came.  There were over 25 people who came and showed their support so we were pleased by the turn out and Heather got lots of great things!
Overwhelmingly the favorite food item of the day, was the raisin bread and apple cream cheese sandwiches.  They are super simple and oh so light and yummy.  They are super easy to make, especially if you own a mandolin slicer which is a handy tool to have around the kitchen and for slicing anything very very thin.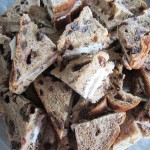 Directions for Fruit Sandwiches: Filling: Mix 1 8 oz. block of cream cheese with juice from 1/2 orange, 1 T. orange zest, 1 T. honey, and a couple dashes of good quality cinnamon.  Done!  Spread the filling on raisin bread and top with thin apple slices (a couple apples will be enough for a whole loaf of bread) that have been soaked in the juice from the other 1/2 of the orange (to avoid browning).  Cut in quarters to make finger sandwiches. Store in the refrigerator and serve cold.  These could be served open-faced or with bread on top.  I made a few gluten free dairy free (gfdf) sandwiches for those of us who are allergic and they were really fantastic.  I just followed the same instructions and used Tofutti cream cheese and Rudi's raisin bread.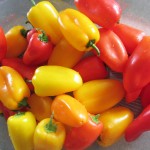 Now, for the side dishes, I wanted everything to be finger foods (no utensils needed) and because I was in a rush to pack and get ready for a vacation, I needed the sides to be very easy.  However, I wanted to make sure they were colorful so that they were appealing to our guests.  The following is what I chose for the sides.  Multi colored mini sweet peppers…. and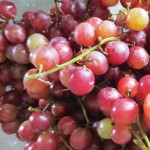 Red Grapes.  Green grapes would have been nice too, or an assortment of both would have been lovely.  These grapes were washed and cut into small serving sizes.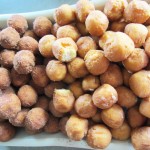 For a dessert, some neighbors contributed a variety of donut holes.  This was perfect because it wasn't too heavy, but was enough to satisfy the sweet tooth that all of us have.  This particular item was the only thing we had at the shower that wasn't gluten and dairy free.  However, we survived somehow!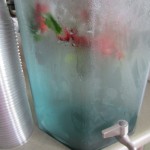 This beautiful creation is what we served to drink.  The picture doesn't do it justice because of the condensation.  However, it's very simple, elegant, and it tastes really fresh.  It's just filtered water, lots of ice, a handful of fresh mint (from our garden), 6 sliced strawberries, and 1 lime sliced.  It's very refreshing on a hot summer day and incredibly easy to create.
I hope this post helps you to plan your next LDS Baby Shower Food!  If you have any other ideas that I have missed, please let me know by posting a comment.  Thanks for looking!
**Positively Mommy occasionally provides recipes and other information about food preparation. Please keep in mind that it is the reader's responsibility to determine the value of these recipes, nutritional and otherwise. It is also the reader's responsibility to determine the safety of the preparation instructions. Recipes are prepared "at your own risk." We assume no liability, obligation, or warranty with respect to these recipes. Positively Mommy is not responsible for any damage, medically or otherwise, that could result from preparation of these recipes. Visitors must take care to check the instructions provided and determine their value and any possible medical condition that may arise from the preparation instructions and consumption of the ingredients listed in this site's recipes.