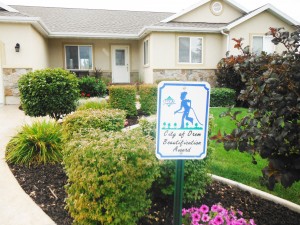 My husband hates hates hates yard work.  There's nothing he hates more.  Hate, however is not a strong enough word. I should say he despises yard work.  When we first talked about getting married he warned me that he would not step foot in a garden or plant any flowers EVER.  I thought, "Yeah yeah, whatever, he'll change once he sees how fun and rewarding it is!"  How many times has this thinking worked out for womankind.  Never.  And it didn't work in my case either.  He has planted a couple things when I needed lots of help.  But, my husband still hates yard work and couldn't care less if our yard was nice or a pile of weeds.
I, on the other hand, care very much how our yard looks and I want it to be beautiful and inviting.  I have tried very hard to make our landscaping low maintenance (with no maintenance plants, sprinklers and strategic placement of cement to reduce weeds).  It's nice to know that all of my hard work hasn't gone unnoticed.  I was so incredibly pleased when we received the Orem Beautification award, along with a $25 gift card to a local nursery.
I have no idea how we won.  We were on vacation and had a note on our door when we got back.  I get to have that cute sign in my yard for a month.
Our yard is very large, so this is just a snippet of what it looks like.  We also have a seating/firepit area, swingset area, garden area, and a large basketball hoop (my husband does participate in this!).
I find gardening to be relaxing and I like that my kids like to go out with me and help in the yard.  It's something we can do together and I think it teaches them valuable skills, like how to grow your own food and how to take care of plants.
You can't see it well from the photo, but I have created a children's seating area in the back yard with a fairy garden and 2 chairs where they can go sit in the shade and explore.  It's fun for them to have their own little space and it was a fun project to do together.
If you have any gardening tips, please post a comment!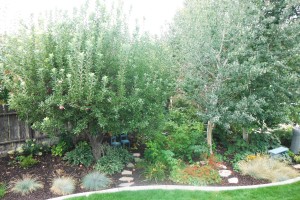 ***our address has been blurred out in case you were wondering what that obnoxiousness was next to our front door 🙂