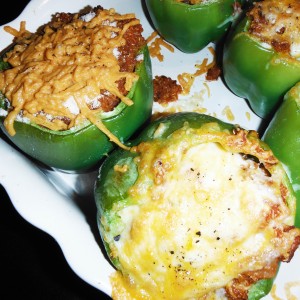 This month our family is living off of food storage (we have a one year supply).  Why you ask?  Well, there's a few reasons.  First, we need to save money.  Second, because we need to rotate the storage we have and badly need to clean out the freezer and pantry.  Third, it's good to know how to use food storage in case of an emergency or job loss.
Now, my personal experience of living off of food storage for 2 weeks has been a lot easier and better than I thought it would be.  We reserved a very small amount to buy fresh fruits and vegetables and I have been able to get $3 15 pound cases of fruit at a local fruit stand which I have been making jam out of and canning applesauce and what not.  It has been a blast and I love learning these new skills and giving away the canned items to friends!
I didn't run out of anything this week, wow!  I'm getting into a routine with it and it's not that bad to live off of food storage, in fact, it's fun!
So, the next living off of food storage recipe I'm posing is stuffed green peppers.  I had a large bag of qunioa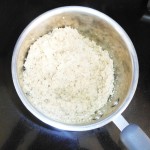 in my pantry that I bought at Costco a long time ago because Dr. Oz told me it would change my life.  It's not changing my life just sitting in the pantry so I made something with it.  It was totally yummy and different from what we usually eat.  My husband and I loved the recipe.  One kid loved it and the other 2 sat at the table for an hour trying to choke it down.  Yes, we're THOSE kind of parents that make their kids eat the food that was prepared even if they don't like it.
So quinoa is a grain that is very high in protein and very healthy for you.  It's round and has a consistency of millet kindof sortof.  I like it a lot.  It's very dense and filling.  It's round like a little ball and has a hull on the outside that comes off when cooked.  It's tasty, you should try it.   Not only because Dr. Oz said so, but because it's fun to try new things!
Here's what the filling looks like when it's all made up.  We used green peppers from our garden as well as a few from the fruit stand for .25 cents each.  Now, let me tell you, this recipe is really really filling.  One green pepper will easily feed 2-3 people, so keep that in mind.  I used the cannery ground beef (which is absolutely fabulous, you need some) and dried onions as well as tomatoes from the gardens and some of the canned variety from our storage.  You can use fresh ingredients if you wish.
Now, just so you know, this recipe is naturally gluten free, yay!  It is not dairy free and my husband hates "fake" cheese, so I made one with vegan cheese for me and one with "regular" cheese for him as you can see in the photo above.  So, this can easily be made gluten free and dairy free without much thought.  I like not thinking, I'm good at it.
This would be an easy and delicious recipe to make for company.  It also makes yummy leftovers.  If you don't like green peppers, the meat and quinoa sauce would be fabulous on a baked or mashed potato!
Easy Stuffed Green Peppers (GFDF)
Ingredients
6 green peppers
2 cups chicken broth
1 cup uncooked quinoa
1 pound ground beef (pre-cooked)
1 4 oz can tomato paste
1 15 oz can chopped stewed tomatoes
1 T. garlic
1 T. Worcestershire sauce
1 T. cooking oil
2 T. dried onion
1/4 c. GF bread crumbs (optional)
1/2 cup cheese (we used vegan cheese)
Instructions
Preheat oven to 350.
Cook quinoa with chicken broth according to package directions. Meanwhile, cut the top off the green pepper (reserve the top) and seed it. Place in baking dish. Cut the tops of the green peppers in chunks to place in the meat mixutre. When quinoa is finished cooking, place it in a frying pan with the cooking oil. Add the meat, onion, and garlic. Saute for 5 minutes and then add the tomato paste, and the stewed tomatoes. Stir and heat to boiling. Next spoon the meat and tomato mixture into the green peppers until they are filled to the top. If desired, add gluten free breadcrumbs to the top. Bake for 30 minutes.
Lastly, add cheese to the top of the peppers and broil for 3-5 minutes, watching carefully so that they don't burn
https://www.positivelymommy.com/2012/09/living-off-of-food-storage-recipe-stuffed-green-peppers-gfdf/
If you need a good boxed gluten free breadcrumbs, these are great for a variety of things.
**Positively Mommy occasionally provides recipes and other information about food preparation. Please keep in mind that it is the reader's responsibility to determine the value of these recipes, nutritional and otherwise. It is also the reader's responsibility to determine the safety of the preparation instructions. Recipes are prepared "at your own risk." We assume no liability, obligation, or warranty with respect to these recipes. Positively Mommy is not responsible for any damage, medically or otherwise, that could result from preparation of these recipes. Visitors must take care to check the instructions provided and determine their value and any possible medical condition that may arise from the preparation instructions and consumption of the ingredients listed in this site's recipes.