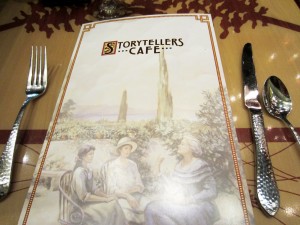 My husband took me to the Storytellers Cafe Character Breakfast for my birthday.  I put up quite a fight about it because I wanted to go to the Plaza in to the Mickey and Friends breakfast at Goofy's Kitchen.  I was in a little bit of a bad mood because I wanted to go there and I felt like he was making me go somewhere I didn't care for on my birthday.  How rude right?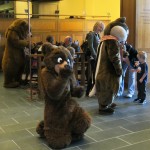 I ended my sulk pretty quickly because boy was I wrong!  By the end of our breakfast there, I was having a fabulous time and really enjoying the food.  I'll admit I didn't know any of the characters at the Storytellers Cafe, they were from the Brother Bear movie and I haven't had a strong desire to watch that movie.  However, I got to know the friendly characters right away and they were very fun and liked to play tricks on unsuspecting restaurant goers.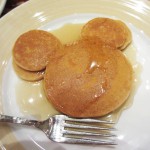 They were very accommodating to my food allergies (gluten and dairy).  The chef came out and asked me if he could make me anything special for my birthday that was gluten and dairy free (GFDF).  He gave me some options and I chose the MIckey Mouse shaped pancakes.  They were so outstanding!  I really appreciated the care and concern they took in my behalf.  He also informed me of what I could eat from the breakfast buffet.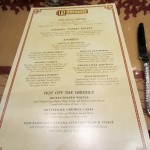 As you can see, the breakfast buffet is quite expansive and has just about anything you could ever want for breakfast.  There was pastries, fruit, oatmeal, bacon, sausage, hash browns, toast, eggs, biscuits and gravy, a cook to order omelet station, pancakes, waffles.  A juice also comes with the meal. I did notice that they kept the eating surfaces very very clean and the food was kept hot with heat lamps and hot pans so no worries about food contamination or food poisoning.
Instead of choosing the breakfast buffet and omelet bar, you can choose something from the menu.  I think most people order the buffet because it's just so good!  However, the items on the menu look fantastic too.  The cost was $33 for adults (including tip and tax) and $17 for kids (also including tip and tax).  I felt like the atmosphere and the quality of the food was worth it.
Watch this simple video we put together about our breakfast at the Storytellers Cafe Character Breakfast.  Voice-overs will be coming soon, so stay tuned.  If you have any comments or questions about the Storytellers Cafe, please leave a comment on this post!
To see our review of Ariel's Grotto check out our post!
**All content provided by Positively Mommy is for informational purposes only. Positively Mommy makes no representations as to the accuracy or completeness of any information found on this site or found by following any link on this site. Positively Mommy will not be liable for any errors or omissions in this information nor for the availability of this information. Positively Mommy will not be liable for any losses, injuries, or damages from the display or use of this information. This policy is subject to change at anytime.