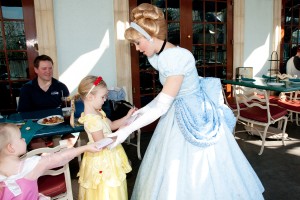 Our family has been to Ariel's Grotto Character Dinner many times.  Our girls love it so much and it give us a chance to see the princesses without standing in ridiculous lines at Disneyland.  I have seen many Ariel's Grotto Reviews, but I will try to make mine more comprehensive with photos, menu, and video to help you decide whether Ariel's Grotto is for you or not.  I highly recommend it if you can afford the $40 price tag for adults (which includes tip and tax) and $21 for kids (including tip and tax).  Little girls will generally go to Ariel's Grotto dressed as their favorite princess.  The Belle dress pictured here is machine washable and non-itchy and is a good choice for a meal like this where they might spill on themselves.  It comes in a variety of sized from 12 months up to girls size 10.  There is also a Cinderella dress, Sleeping Beauty dress, Snow White dress, and an Ariel dress.  They can also wear these to Disneyland (lots of little girls do).
You will see Ariel when you first come in to the restaurant.  Then Cinderella, Sleeping Beauty (Aurora), Snow White, and Belle will come to the table at your character meal.  Isn't Belle stunning?  Each princess will come to your table, talk to your child, answer any questions, give them a hug, take a photo, and sign their autograph book.  So, you really do get quite a lot of time with each princess.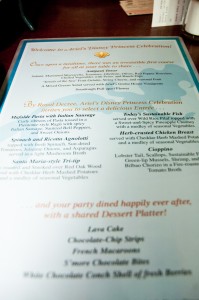 The food is really tasty at Ariel's Grotto.  Everything on the menu is the same price (included in your prepayment).  The meals come with a drink, a large plate of appetizers, homemade shaped bread and butter, and a plate of assorted desserts including cake, brownie, a chocolate and berry shell, and cookies.  They do accommodate food allergies without any problem at the restaurant.  I am gluten and dairy free (GFDF) and I had the salmon, rice, and asparagus.  I couldn't eat any of the desserts, so they brought me some raspberry dairy free sorbet.
There is a drink menu (at an extra charge) with beers, wine, tea, etc.
My husband had the tri-tip steak and mashed potatoes.  He said it was really good quality food. The kids can choose from meatballs, tri-tip, chicken skewer, and shell pasta.
Just because my kids are alway curious what the bathroom looks like everywhere, this is what the bathroom looks like at Ariel's Grotto for inquiring minds to see!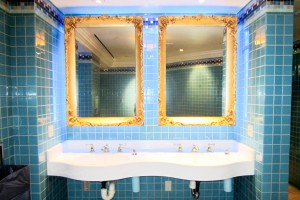 If you would like to see the video we made about Ariel's Grotto, please watch it here.  A video with voice-overs will be coming soon!
If you're interested in visiting the Storyteller's Cafe, check out our: Storytellers Cafe Review
**All content provided by Positively Mommy is for informational purposes only. Positively Mommy makes no representations as to the accuracy or completeness of any information found on this site or found by following any link on this site. Positively Mommy will not be liable for any errors or omissions in this information nor for the availability of this information. Positively Mommy will not be liable for any losses, injuries, or damages from the display or use of this information. This policy is subject to change at anytime.