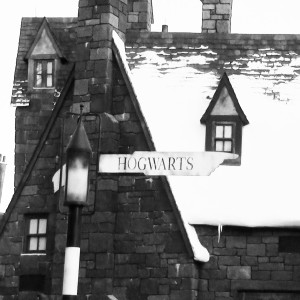 Our family went to Disney World in December of 2011. It really was the trip of a lifetime and we loved Orlando, especially the weather as it was snowing in Utah where we're from! Since we are from the west, we generally go to Disneyland.
We really enjoyed Disney World and the opportunity we had to stay an extra day in Orlando and visit Universal Studios, specifically to see Harry Potter World. Our 11 year old read all of the Harry Potter books so while we were in Orlando, we went to see the famous Harry Potter World. I don't think the look of glee ever left her face honestly.  Her class theme at school was Harry Potter so she had a lot of things to brag about when she got to school on Monday!
There were some things I liked and didn't like about Harry Potter World.  As you can see from the video below, the shops, the scenery, and the atmosphere were AWESOME!  We loved looking through the stores, especially Honeydukes, the candy shoppe.  We picked up a chocolate frog and a pumpkin juice while we were there.  There is a ride in the Hogwarts Castle.  They went all out on this for sure!  It was so amazing!  The castle is where you stand in line to get into the ride.  As you walk through the castle (and in an obnoxious line), you see things from the "real" castle, such as the marauders map, the sorting hat, and pensive, the teachers, and Harry, Hermione, and Ron.  The actual ride was one of the best I've ever been on.  It takes you through the Harry Potter story.  It couldn't be video taped, it was too wild and crazy (and dark), so you will have to take my word for it!
While the castle and the shops were amazing, the other rides at Harry Potter World were pretty lame, even our 11 year old was literally bored on the roller coaster "flight of the hipogriff".  I'm not complaining, because the rest of the place was totally amazing.  Another mistake we made was paying $240 to get Universal Studio's version of the Fast Pass.  We were so exhausted from walking around Disney World for 5 days straight that our legs couldn't stand in line anymore, so we thought it would be worth it.  But they exclude all the good rides from the special pass.  We only used it a couple time because of all the exclusions, so I really wanted my money back on that one.  Of course no theme park is perfect, but Harry Potter world was pretty darn close and a really great experience for our family.
There was one more small thing that bothered me, when we ate at the 3 Broomsticks, they wouldn't take the milk "foam" off of the Butterbeer even though my daughter and I are severely allergic to milk.  It has to be served a certain way and it's against the rules to change the appearance.  I thought it was ridiculous that they told me to scoop it out and I feel that someone could get really sick and they could get sued, just my personal opinion though.  I think they should make accommodations for people with allergies.  When you order at the 3 Broomsticks, you can choose from a few pre-made dishes and that's it, no making anything special or ordering something specific for allergy concerns.  No one knew anything about what was in the food as far as gluten when we went to the restaurant.  Disney World handles this aspect so much better.   We never had to worry about food allergies when we were there, they accommodated us 100%.
I've been asked what does Butterbeer taste like?  Strikingly similar to cream soda.
We went to Harry Potter World at Christmastime and as you can see from the video, it was insanely crowded.  I got nervous a couple times just by the sheer number of people touching me because there just wasn't enough space to fit everyone that was there.
TIPS
#1 Wear Comfortable Shoes – There is a lot of walking and a lot of standing in line, be comfortable!
#2 Don't buy the Express Pass, it's not worth it – Unless you plan to spend an entire day at Universal.  We did some other rides there and weren't that impressed.
#3 What to wear – Wear your favorite Harry Potter t-shirt or robe. Here's a link to an Adult Robe and here's a child's Harry Potter robe.  Many people who go to Harry Potter world dress up in costumes and other HP attire.  I wore my Slytherin shirt and my daughter wore her Gryffindor shirt.
#4 Eat at the 3 Broomsticks – Despite their lack of concern for food allergies, the experience of eating there was so worth it.  We felt like we were really in the book!
#5 Olivanders – If you want to get into Olivanders wand store plan on waiting an hour.  This is why we don't have it in our video, I'm not a patient person :).
Overall, I loved Harry Potter World and I would definitely want to go again, but I would go when it wasn't so crowded.
Watch the Quick Tour Video here:
**All content provided by Positively Mommy is for informational purposes only. Positively Mommy makes no representations as to the accuracy or completeness of any information found on this site or found by following any link on this site. Positively Mommy will not be liable for any errors or omissions in this information nor for the availability of this information. Positively Mommy will not be liable for any losses, injuries, or damages from the display or use of this information. This policy is subject to change at anytime.