Parents and kids can both get excited about this Super Kids Smoothie!  It's sugar-free but is naturally sweet.  This smoothie is perfect for kids with food allergies and is dairy and gluten free.  The pineapple aids digestion and the strawberries help your immune system.  The chia seeds are a super-food and add lots of Omega 3's and fiber.  The best thing about chia is that it doesn't have a taste and creates a slight thickening effect so your smoothie will be smoothier (is that a word?).  You can remove the chia and the yogurt if you don't have those on hand and the smoothie will still taste wonderful and tropical.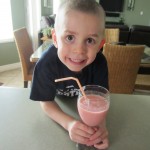 My son even liked it and he's a pretty picky eater.
Did you know you can use the core of the pineapple in your smoothies?  It's supposed to be very healthy for you and can help with joint pain and arthritis (that's what I heard from the Blendtec man at Costco anyway).  I used the core in this smoothie and it was very tasty!  This recipe makes 6-8 one cup servings and was about $5 total to make.
Superfood Tropical Smoothie
Ingredients
2 cups fresh pineapple
1 cup frozen strawberries
1 banana
1 C. Vanilla Soy Yogurt
1 T. Chia Seeds
1 T. Organic Agave Nectar
3-4 cups Rice Milk
Instructions
Include all ingredients in your blender and blend until smooth. On my Blendtec, I used the frozen foods setting twice (so about a minute and a half). Serve with mint leaves as a garnish if desired.
https://www.positivelymommy.com/2012/05/super-kids-smoothie/
**Positively Mommy occasionally provides recipes and other information about food preparation. Please keep in mind that it is the reader's responsibility to determine the value of these recipes, nutritional and otherwise. It is also the reader's responsibility to determine the safety of the preparation instructions. Recipes are prepared "at your own risk." We assume no liability, obligation, or warranty with respect to these recipes. Positively Mommy is not responsible for any damage, medically or otherwise, that could result from preparation of these recipes. Visitors must take care to check the instructions provided and determine their value and any possible medical condition that may arise from the preparation instructions and consumption of the ingredients listed in this site's recipes.