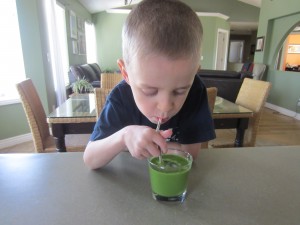 A smoothie a day keeps the doctor away!  If you need an energy or an immune boost, this is the smoothie for you.  Our kids even like to drink it.  Don't let the green color scare you, it actually tastes GOOD, very very good!  It makes a perfect meal replacement if you are on the run and don't have time to make anything for breakfast or lunch.  This is like a salad in a glass!
All 7 cups of this smoothie was around $6 to make in my Blendtec blender (which I love and sing it's praises every day when I use it)!  Our family is gluten and dairy free and our smoothies are too.
My kids all like green smoothies, but if yours have a hard time with the bright green color, you might want to try out these Zoo Pals Cups. I like how they have lids and bendy straws (eat your heart out Sarah Palin!) and are around 5 cents a piece which is totally worth encouraging your kids to drink these great smoothies!
Green smoothies taste best when enjoyed right away and very cold.  I usually put an ice cube in mine.  If you have extra, you can save it in an air tight container (like a canning jar) for up to 24 hours.
We love smoothie recipes for kids, here's the recipe for the green smoothie listed above.
Green Smoothie Even Kids Will LIke
Ingredients
6 c. spinach
1 banana
1 c. pineapple
1/4 c. frozen mango (I got mine at Target)
1/4 c. vanilla soy yogurt
1 T. chia seed
4 c. orange juice
Instructions
Put ingredients in order listed into blender. Blend for 1-2 minutes or until desired consistency. Makes 7 cups of smoothie. If you can't find frozen mango, you can use frozen strawberries or blueberries. My kids LOVE this smoothie and we share it together. Enjoy!
https://www.positivelymommy.com/2012/05/green-smoothie-even-kids-will-like/
**Positively Mommy occasionally provides recipes and other information about food preparation. Please keep in mind that it is the reader's responsibility to determine the value of these recipes, nutritional and otherwise. It is also the reader's responsibility to determine the safety of the preparation instructions. Recipes are prepared "at your own risk." We assume no liability, obligation, or warranty with respect to these recipes. Positively Mommy is not responsible for any damage, medically or otherwise, that could result from preparation of these recipes. Visitors must take care to check the instructions provided and determine their value and any possible medical condition that may arise from the preparation instructions and consumption of the ingredients listed in this site's recipes.