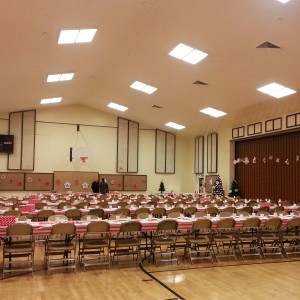 A few weeks before the Ward Christmas Party, my husband and I were asked to be in charge as an assignment (not a calling) by our Bishop.  Our budget was initially $500, but when we priced things out, we saw we might need a little more and ended up spending around $600.  We would be on a Disneyland vacation the week before and getting back the night before the party.  To top it off, there was a funeral the afternoon of the party so we weren't able to set up until 3 and the party started at 5.  We needed some serious help!
We planned on about 230 people and I think about 220 showed up.  This was my second time planning the ward Christmas party, so I knew what to expect (a lot or work and a lot of fun!)
The theme was "Let Him in" and we really wanted people to invite their neighbors and to feel the Christmas Spirit.  There were a few new faces and 2 sets of missionaries were also there.  I really wanted the colors to be bright because the stake cultural hall is so dreary and brown.  We went with bright red and white.  Hopefully this post will make your Christmas party a little easier!
We personally asked people to help with certain aspects of the party.  We asked some friends to help because we couldn't do everything on our own!
Food – A dear friend of mine was in charge of all the food and food sign up sheets. She called and reminded everyone what they were bringing as well. We served ham (provided by the ward), homemade rolls (a lady in our ward made all of them – the ward provided the ingredients), cheesy potatoes (provided by members), salad and dressing (provided by the ward), water, and cookies for dessert (provided by the ward members).  Because of the simplicity of the food, we were able to make FOUR lines for people to go through and people got their food within 10 minutes!  Some notes on the food:  for 230 people we needed  60 pounds of ham, 15-20 cheesy potato 9×13 pans, 300 rolls, 12 sticks of margarine, 20 people bringing at least 1 dozen cookies or brownies, 2 Costco bags of Salad, 4 salad dressings, and 3 large glass beverage dispensers with strawberries and mint.
Gym Decorations – I was in charge of the decorations and asked on facebook if anyone had some old Christmas trees they weren't going to use.  Several people had those and garlands they donated or let us borrow.  I just used a white sheet for the tree skirts. I made the 80 wall decorations using colorful wrapping paper I bought at Hobby Lobby (see the concept below in the photo).  Each circle needs 2 fans folded together and stapled. I made a lot of different sizes, but the best ones turned out to be 10×10 papers to begin with.  My whole family made these for several weeks! I hole punched the top and tied sewing thread in a loop and hung them with a push pin on the canvas around the perimeter of the gym.  I also got this and we made some beautiful card-stock snowflakes for the walls near the food.  We made a Merry Christmas banner to string across the stage.  I also purchased 2 dozen red and white helium balloons to put on either side of the stage.
Ceiling Decorations – The Young Women made snowflakes and attached fishing wire and a paperclip then we secured them to jute twine.  We had initially planned to hang them from the ceiling with tape or from hooks going from each basketball hoop, but it didn't work out, so we strung them up above the stage and in the back of the gym.  It looked awesome!
Handouts –  A lady in our ward made the "Let Him In" key handouts.  Here is a printable for those.  We purchased the keys for those handouts here.  Hobby Lobby also had the keys, but they were much more expensive.  We made 60 handouts, one for each family.
Table Decorations – A lady in our ward made the awesome table decorations.  The striped tablecloths we bought can be found here or on Oriental Trading. I had to buy 3 rolls, but only used 2 1/2 for 20 long 6 foot (I think) tables.  And straws can be found here.  We set the tables before the party.  There was another awesome lady in our ward that made doily decorations for the tables as well. She donated all of the supplies for them.
Activities for the kids – A lady in our ward wrapped large priority mail boxes with bright red and white wrapping paper and put 2 on each row of tables.  Inside were some activities to do for the kids like coloring and a nativity sticker kit purchased at Hobby Lobby. They also doubled as centerpieces that weren't too high to talk over.
Program – My husband was in charge of the program and decided to do a Nativity play, some congregational singing, and asked some talented people in our ward to play instruments and sing.  Our family has a set of nativity costumes, but you could get by with using robes and sheets or ask around and see if anyone in your ward has costumes.  He asked a couple in our ward to organize some primary children at the party, give them parts, and help them do the play.  Another member of our ward was the narrator and we had the congregational singing during the nativity play.  My husband printed out the words to the songs and put them on the tables.  Make sure you have a microphone (our gym has a sound system hookup in it), music stand, and piano.
Set up – We asked about 10 people to help us set up and almost 30 showed up.  It was a testimony to me of "angels among us".  I know sometimes the Lord sends people to help us when we really need it and boy did we really need it!  We got done setting up about 5 minutes before it started.
Media – We had a poster set up in the foyer for a few weeks before the party, we also had quarter sheet flyers that we put with the sacrament meeting program the Sunday before.  We put an announcement in the newsletter and Sunday program as well as had it announced in all of the auxiliaries.
We made an announcement to plea for help taking down and cleaning up and lots of people stayed and helped.  I think we were done cleaning up in about 45 minutes.  We gave away almost all of the decorations so there was nearly nothing to bring home.
Here's a brief video of the decorations and layout of our party.  Everyone needed to see the stage so we had 5 rows of 5 tables.  We had tables set up on the far left for desserts and the far right for the main course (2 rows of 2 tables so we had 4 lines going for the food).  Then a separate round table for water.
I had several comments that the party was very organized (it had started and was finished in one hour!).  I think everyone had a lot of fun and got to socialize and feel the Spirit.  The room looked really spectacular too.