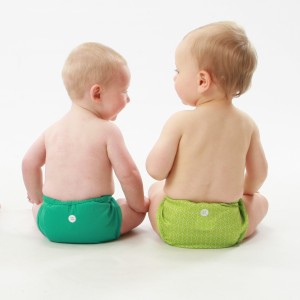 Hello there!  We are pleased to bring to you a  Buttons Cloth Diaper review and giveaway.  I had the opportunity to try a Buttons diaper for a few weeks so I could review it.  I was very pleased with the quality and construction as well as with the look and function of the diaper.
Buttons has options and I like options!  You can choose snap-in soakers with microfiber for a budget option.  If you are not a fan of microfiber, (which I am not), you can choose an organic cotton/hemp blend.  You can even choose an overnight snap in soaker that snaps into the regular soaker or into the cover itself.  They have a wide variety of cover options and the thing I like best about Buttons diapers is the attention to detail.  My diaper came hand wrapped in tissue paper and string!
Speaking of the cover, it is really well made.  It has 2 layers of PUL and double gusseted legs to help prevent leaks. It is a one size cover that fits babies 9-35 pounds.  I never had a leak with this awesome diaper.
If you would like to see my full review of this diaper, check out my YouTube video here.
THE GIVEAWAY HAS ENDED AND THE WINNER IS: BECKY ANN!!!  I have never had the first commenter win before.  Congratulations!  You have 72 hours to claim your prize.  Next in line is Anel!

GIVEAWAY
Enter to win a free Buttons cover and TWO snap in soakers of your choice!
DETAILS
Expires on 11/12/2014 at 9 am MST
A winner will be chosen at random
HOW TO ENTER
(Use any or all of these options)
1. Post a comment on this blog post stating what you like best about Buttons diapers= 1 entry
2. Follow us on social media = 1 entry EACH
Subscribe to the Positively Mommy blog (top right of this page)
www.youtube.com/user/PositivelyMommy/featured
www.facebook.com/PositivelyMommy
www.pinterest.com/positivelymommy/
3. Follow Buttons Cloth Diapers on social media = 1 entry EACH
www.facebook.com/buttonsdiapers
www.twitter.com/Buttons_Diapers
www.pinterest.com/buttonsdiapers
MAKE SURE TO COMMENT ON THIS BLOG POST TO TELL US WHAT ENTRIES YOU COMPLETED SO WE KNOW TO COUNT YOU
(If you are already following us on social media, that counts as an entry too!)
RIGHT NOW BUTTONS HAS FREE SHIPPING OVER $75 FOR A LIMITED TIME!!!