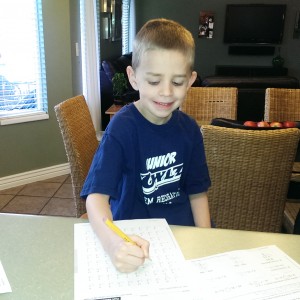 In a previous post, I went over different curriculums and homeschool basics that you will need to get started.  With this post I would like to share a few resources that have helped make our experience doing school at home fun and (mostly) free.
A few weeks ago I decided to take my first grader out of his charter school mid-year to do home school.  It was an agonizing decision, one met with lots of prayer and pondering.  His classroom environment at school was hostile and strict and he was feeling like he was a "bad boy" because his teacher was always telling him what he was doing wrong.  He was starting to have anxiety every day before school and feeling sick to his stomach just thinking about going.  Finally, I couldn't watch the problem escalate and do nothing.  I talked to the principal, but nothing really improved.  A home school friend of mine encouraged me to take him out immediately.  I just needed a little push to get over the fear of starting.  Once I did, a huge burden was lifted from my shoulders and it was actually a very easy transition.
The staff at the school was sad to see our son leave.  I donated some supplies to them on his last day at school and I was talking to them about curriculums and they graciously offered to print up the rest of the year of Saxon math worksheets for our son for free!
Here's what a typical day looks like at our house for our first grader (who is on a second grade level).  This is the order we do school in.  My son works independently on his workbooks and asks me if he has questions.  I encourage him to find out answers on his own and give him the resources to find the answers.
Homeschool Basics: All of these items can be purchased on Amazon and be at your door quickly.  You can have your kids starting home school this week!
I know this sounds like a lot of time and work, but it's really not that much as long as you are organized.  My son gets his work done by lunch time (even with two 30 minute recesses included).  He can then prepare his own lunch, do his chores, and play for a while before his other siblings get home from school.  We are pretty easy-going with him and don't have to spend time nagging him about doing his work.  He is motivated to get done so he can have the rest of the day free to play whatever he wants.
People ask me all the time, "How much time does it take to do homeschool?"  It takes about an hour a day of my time to homeschool my son.  We read for 30 minutes together,  it takes 20 minutes to get his worksheets organized and help with any questions he has, and then 10 minutes to correct his worksheets.  When we go to the library once a week it takes about an hour and fieldtrips are about 2 hours per week.  Specialties are probably about 2 hours per week (because some of them he does independently). So, on an average week, I spend about 10 hours with homeschool.  Just as a comparison, if you count the time I spent driving to/from his charter school and volunteering in the class it was about 7 hours per week.  Many Moms read 30 minutes with their children after school already (we did, but not consistently) so if you take that into account, it's about the same amount of time spent.  Win-Win!
The cost of homeschool for us for this year was about $50 for workbooks and school supply-type materials!!!  I expect to spend about $100-$200 on field trips and other miscellaneous things (but those can be optional).  I consider this negligible since we donate school supplies to the school each year and they cost around $50 (plus we don't have to buy backpacks or uniforms with homeschool).  We also don't have to pay for gas driving to/from school anymore.
Are you doing homeschool?  Post a comment and let us know free resources you love!