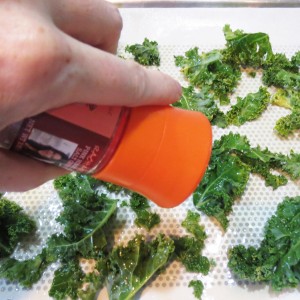 Making kale chips in the oven is so incredibly easy and I think it's pretty tasty and an easy snack to make.  Kale is very healthy for you and I don't really like the flavor raw or in smoothies unfortunately, so this is a palatable way for me to eat it.
Here's how to make kale chips in the oven
Wash and dry 1 bunch of kale
Put a piece of parchment on a cookie sheet and break up kale into bite sized pieces and spread out on the cookie sheet.
Drizzle extra virgin olive oil over the kale and really rub it in so each piece is covered.
Add some Himalayan Sea Salt and crushed black pepper.  You could also add some dairy free (or regular) paremsan cheese but that's optional.
Bake at 250 degrees for about 40 minutes (or until crispy) stirring half way through.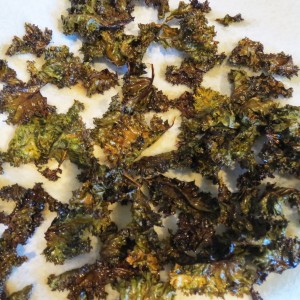 Here's what it looks like after it's been cooked and cooled and is ready to eat!  Please post a comment if you have any questions on how to make Kale chips.