Have you ever wondered what to do with the frozen triple berry blend from Costco (blueberries, strawberries, and marionberries)?We make healthy smoothies out of them all the time and they are wonderful!  You can put whatever you want in them and the possibilit8ies are endless, but this is a recipe that we really like.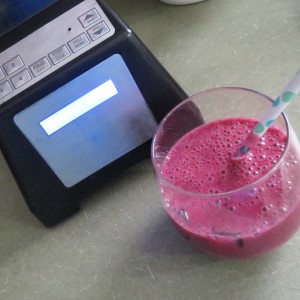 Triple Berry Smoothie Recipe (in order listed)
1 banana
1 apple, cut in quarters (optional)
1 cup fresh squeezed orange juice (or 1 can unsweetened pineapple with juice)
1 cup spinach (optional) – you can't taste it
2 cups frozen triple berry blend
1 cup milk (we use rice milk)
Blend on the frozen fruit setting 2 times. Serve with an ice cube and a straw.
Enjoy!