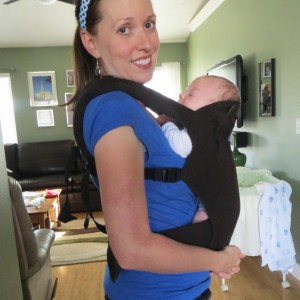 Hands free baby carrying is a must at our house.  With 4 kids and a busy schedule, I need both hands free for cleaning up the house, preparing meals, and playing with my other kiddos.  My baby adores baby wearing and so do I because we can be close to each other while I get things done.
When I first had him, I tried out a bunch of different carriers and went to a babywearing class because I just couldn't find one that was comfortable for me.  I am 5'3″ and about 120 pounds and many of the carriers were just too big for me.  I narrowed down my list to 6 that I liked best.  You will notice I left out the wrap carriers and ring slings.  I had one of those with a previous child and it was really hot to wear and I always felt like the baby was falling out (she wasn't, I just felt that way).  There is too much "give" in the fabric and I personally prefer more structure.  There is a lot of user error with the wraps and Consumer Reports suggests not using them at all because it's more likely your child will be injured because you might use it wrong or the fabric will stretch and give and make the carrier unsafe.  I know a lot of babywearing Moms will have my hide for saying this, but I think it's a valid concern.
Here's a list of my top 6in order from my favorite to least favorite.
Pros:
soft, organic fabric is gentle on baby's skin
distributes weight evenly so no one area gets sore
has a detachable hood that is also size adjustable to protect baby from sun or over stimulation
straps adjust easily while wearing
shoulder strap adjusts up and down
straps can be wrapped up and secured to be tidy
machine washable
3 wearing positions (front facing in newborn, front facing in 12+ pounds – legs around belly, and back facing in)
built in neck support for newborns (snaps), no infant insert needed.  Higher rise to support infant necks.
accessories available (diaper bag that snaps on, carrying sack, etc)
can be adjusted for different sizes and heights (i.e. men & women)
the bottom of the carrier snaps up for infants who are shorter and keep their legs tucked up under their belly
has foot straps for older babies (keeps hips in better alignment)
storage pockets for phone/keys etc
adjustable sides so baby can be pressed up against your chest or not, you control the distance
Cons:
only 3 wearing positions (no hip carry)
price ($160), non organic ($120)
you can't easily breastfeed in it
it gets hot after wearing it for long periods of time, it is not made of mesh fabric
Pros:
lightweight and soft
no straps to adjust
you can breastfeed in it
several different positions (facing in, facing out, on the hip,
comes with waist strap for added support and a carrying bag (attached to waist strap)
very compact and easy to carry around / fit in the diaper bag
price ($60 organic, $50 non organic)
gigantic warning label
Cons:
learning curve: takes a while to learn how to wrap it correctly
unsettling feeling that the baby might fall out (for me anyway) and that I wrapped it wrong
fabric is stretchy so the shoulders tend to get sore
not adjustable in terms of strap length: baby is pressed up against your chest (your baby may like this, but mine doesn't)
you may need a different size than your husband or other caregiver
Pros:
inexpensive ($30)
comfortable for baby
padded interior
velcro bib inside is included
shoulder strap adjusts up and down
breathable mesh
can be carried 3 ways (facing in, facing out, on your back facing in)
machine Washable
can be used with any size of person (adjustable)
Cons:
straps are hard to adjust while wearing (but ok to adjust while not wearing)
waist strap doesn't give much support
shoulders hurt after about an hour of carrying
straps don't have an elastic band to roll up and keep them tidy
Pros:
lightweight mesh material is breathable and soft, great for walking
big storage pocket on front for keys, wallet, etc
straps are easy to adjust while carrier is on
multiple carry positions (facing in, back facing in, hip)
straps can be folded and kept tidy
accessories can be used
Cons:
price ($135)
shoulder straps are too close to baby's head so he can't look around or move around as much as with the Boba
can't breastfeed in it
Infantino Mei Tai
Pros:
Cost ($32)
Hybrid that falls between a wrap and a structured baby carrier
Can by used with any size of person (adjustable)
3 ways to tie: facing in, hip hugging, backpack (baby facing in and on your back)
comes with a hood to protect baby from sun and overstimulation
machine washable
Cons:
girly design that my husband wouldn't be caught dead in
it's hard to get the straps tight enough to hold up the baby and not be digging into your shoulders
It's hard to untie things behind my back
It has to be adjusted every time you put it on, you can't just put the straps on a setting
Pros
soft, organic material
ample storage pouch for keys, wallet
straps can be kept tidy and rolled up
multiple position carry (front facing in, back facing in, hip)
machine washable
comes with a hood to protect baby from sun or overstimulation
Cons:
price ($165)
very hot to wear
thick and bulky (feels like an overnight backpacking adventure when put on!)
my baby hated the infant insert and I had a hard time getting him in the carrier with the insert on
shoulder buckles that go on the top of your back are hard to move up and down
Note: Watch out for carriers that are considered "crotch danglers" (Baby B'jorn) and don't have support or a strap around the parent's waist.  These carriers are bad for babies leg and hip development and are not comfortable for Mom either.  Some people suggest never carrying baby facing out for this reason as well.
I have created a NEW POST with more baby carriers and new videos!  See the post here.
I hope these baby carrier reviews were helpful for you.  Please post a comment if you have any questions.