I had a GIANT sweet potato from bountiful baskets and I had no idea what to do with it besides mash it up.  I decided to grill it on the stove with my indoor grill pan and it was fantastic! It could also be done on an outside BBQ easily following the same instructions.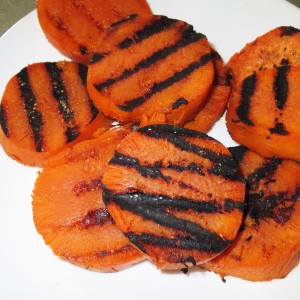 How to Make Grilled Sweet Potatoes
Pierce the sweet potato with a fork a few times, then microwave  it for about 10 minutes (use less time for a small one).  You want it to be a little firm so you can slice it and it will stay in tact.
Peel skin off of the sweet potato with your hands.  It should come right off.  If it doesn't, then it needs to be cooked longer.  Next, slice in 1/2 inch slices.
Spray grill pan (or BBQ grill) with cooking spray and preheat to medium high.
Brush sweet potatoes with canola oil and shake some medium grain sea salt and ground pepper and place in preheated grill pan.  Cook for 2-3 minutes on each side or until grill marks appear.  Serve with a blended cillantro sauce (1/4 cup oilive oil, 1/4 cup fresh cillantro, 1 tsp white vinegar, salt and pepper).  I used a stick blender to make the sauce.  A small food processor would work too.
.