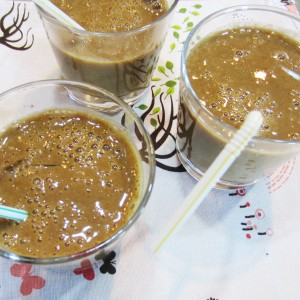 I love all of the many positives that come from drinking green smoothies.  You get the benefits of the whole fruits and vegetables as well as fiber from the skins.  You will notice a difference when you drink a spinach smoothie every day.
First: you will have more energy and increased stamina
Second: your skin, nails and hair will be more healthy
Third: you will be less hungry and will eat less
Fourth: smoothies can be customized to your individual tastes and you can put what you want in them
Fifth: it's a great way to get enough vegetables into the bellies of your kids.  My kids will all drink green smoothies
Sixth: You will get sick less often as green smoothies are chalked full of antioxidants and healthy vitamins and minerals that are highly absorbable and available immediately to the body.
Seventh: Another nice thing about smoothies is they are a great way to use up lots of fruits and vegetables that come from your garden (or your neighbor's garden!) or things that you won't get to eating and may throw away.
There are many more reasons to love smoothies.  Please post a comment if you know of additional benefits!  We'd love to hear from you.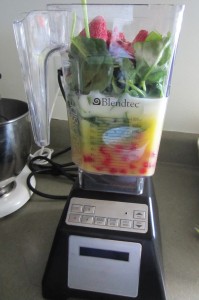 Here's the recipe for this smoothie in the Blendtec Blender.
(in order listed)
1 pint raspberries
1 ripe banana
1/2 – 1 cup fresh squeezed orange juice
3/4 cup rice milk (or milk of your choice)
2 cups organic spinach
1 T.chia seed, a tasteless super-food
1 c. frozen strawberries
Blend on the frozen fruit setting.  I blend mine twice.  Serve with an ice cube and a straw.
Make sure to share with your kids!  I don't force my kids to drink green smoothies.  I let them take a small drink and if they like it, they can have the rest, if they don't like it, I will drink it later or another day.  Most of the time they like them though.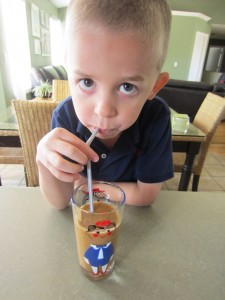 If you would like another green smoothie recipe, check out this video I took of a Blendtec Demonstration at Costco.  The smoothie she made was delicious.  Even the kids that were there watching liked it!
Post a comment if you have any questions and I will answer them to the best of my ability.